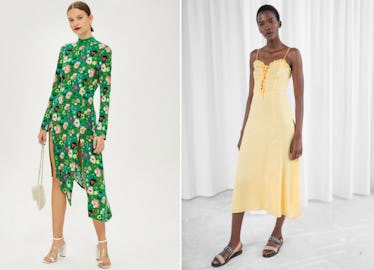 The Perfect Summer Dress For You Based On Your Zodiac Sign
& Other Stories / Topshop
If you're on the lookout for a summer 2018 dress that fits your personality to a T, I just might have you covered. Rather than casting your search net far and wide in hopes of coming across the right dress, why not narrow it down based on some very personal perimeters, specifically those having to do with your star sign?
I'll be the first to say that I don't necessarily find horoscopes accurate or trustworthy, nor do I find the traits and attributions associated with my zodiac to be spot on. I'm a Leo, which is supposed to be the most outgoing sign and yet I am incredibly shy and quiet in large groups of people. That's just one example. However, I will say I identify with my sign's associated color of gold. I love wearing it, I love what it stands for, and I know it represents happiness, brightness, and positivity — all things I want to channel in my everyday life.
So why not wear your associated color loud and proud in hopes of channeling all of the positive attributes your zodiac sign possesses? I picked out my favorite dress for each sign below. And if you think astrology is all a bunch of BS, I'd recommend still taking a look — the dresses are still ace in their own right.
Aries
Aries, whose power color is red, are known to be passionate and fiery individuals. Why not channel that energy in a flirty red two-piece covered in mini hearts?
Taurus
Caring, nurturing Tauruses claim oranges, pinks, and reds as their power colors. This tangerine dress, which features a ruffled hemline and cute back detail you need to check for yourself, is as versatile as it gets — it could be worn to any event, depending on how you style it.
Gemini
Expressive and quick-witted, Gemini are often associated with the bright color yellow. This sundress, which features small ruffles and a lace-up detailing, is sweet, sunny, and summer perfection.
Cancer
Va-va-voom is right! The moon is the ruling planet of Cancer so naturally grays, whites, and silvers are the sign's power colors. This shimmery dress is all kinds of cool and while it's not the most versatile piece, it's one I definitely want in my closet for those times when the more glitter, the better, applies.
Leo
The sun rules Leo, so naturally gold is the sign's most powerful color. This light yellow dress boasts a glossy sheen and cute ruffle detailing.
Virgo
Virgos are known to be supreme nature-lovers, hence why green is one of their ruling colors. This dress takes the connection with the sign one step further thanks to the blooms it's peppered with.
Libra
Pastels are often associated with breezy and chilled out Libras, and this flowy pink dress fits the bill perfectly.
Scorpio
Passion, energy, and creativity are some of the most known Scorpio traits, so what better color to represent the sign than red?
Sagittarius
Intuition and perceptiveness are Sagittarius' best qualities, and blues and purples are known to represent them. This beautiful pastel dress features an asymmetrical hemline and sweet bow neckline.
Capricorn
Capricorns are said to be reflective and clear-minded, and the straightforward color of black represents those traits. This dress boasts an X-back design and flirty cut along the bodice.
Aquarius
This is the dawning of the... we all know how it goes. Aquas, turquoises, and greens represent this calm and watery sign, and this dress features ruffle details that look like waves. Perfect match.
Pisces
Another water sign, Pisces are intuitive and in sync with vibes. A nautical inspired dress like this blue striped one makes perfect sense.