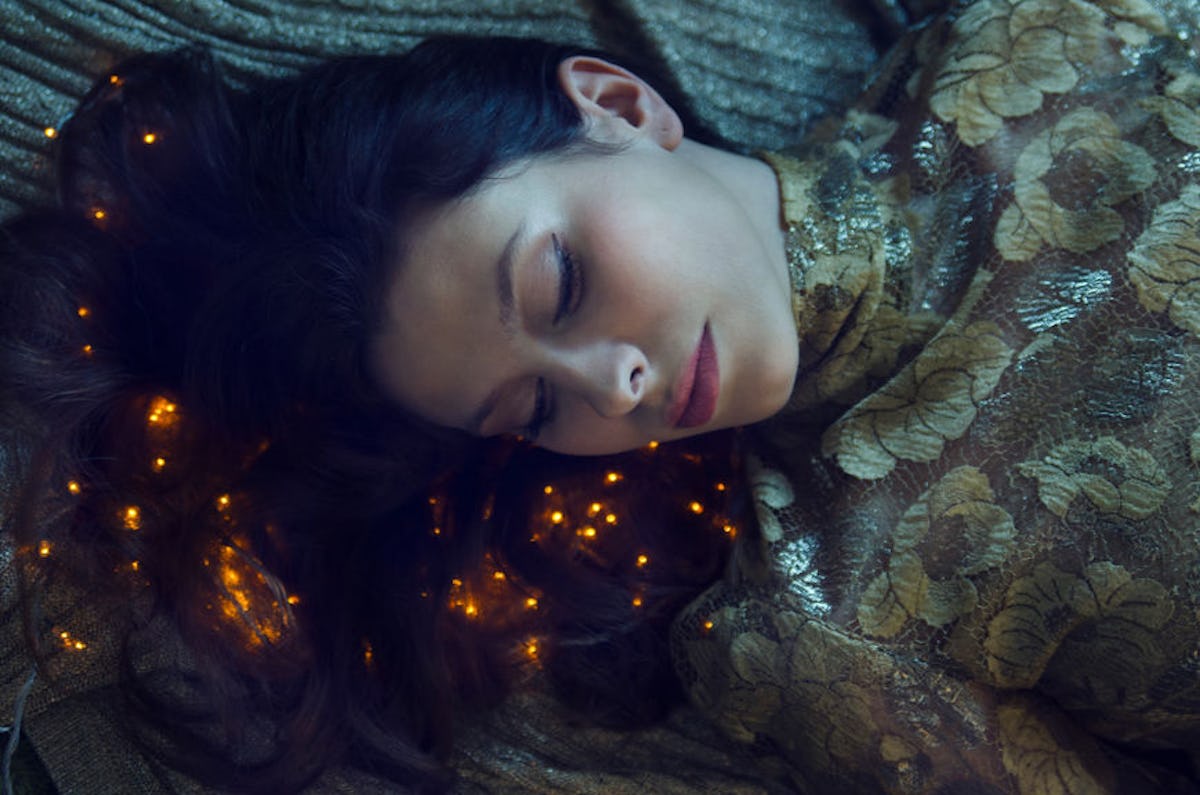 Your Weekly Horoscope Is Here & Venus Is Officially In Retrograde
Gather your bearings because one of rarest and most influential retrogrades in all of astrology is now officially upon us. Beginning on Oct. 5 and lasting until November 16, Venus — the planet that rules over beauty, luxury, money, and your love life — will strut backwards in her orbit, drawing you to towards introspection as you reflect on the the way you've been satisfying these aspects of life. Are there toxic dating patterns it's time to break? Are you placing too much value on superficial concerns? Regardless of what this retrograde pulls out of the closet, you'll leave it behind with a refreshed self-esteem and a renewed attitude towards your life. And, if you're shaking with retrograde fear already, your October 8, 2018 weekly horoscope is here to calm your worries and show you how exciting it all can be.
After all, this week is still overflowing with cosmic magic and thrilling prospects. For one thing, it begins with a replenishing new moon in Libra that will set you on the path towards inner-acceptance and personal success. Radiating its dark wave across the night sky on Oct. 8, this new moon is marked by Libra's power of finding balance in dramatic situations, remedying flaws, and inducing harmony amongst us all. Use its rejuvenation to help you work through any problems that are currently weighing on your life.
We're also edging closer and closer into Scorpio's dark and mysterious den. As Mercury — the planet that governs all your cognitive functions, your ability to communicate, and the logic that you work with — enters Scorpio on Oct. 9, tempting our minds towards taboo concepts and passionate investments. Since Venus will also be retrograding with the scorpion's sting, it's clear that this formidable and alluring sign is bleeding through the cosmos early.
Aries
As the new moon in Libra brings harmony to your seventh house of partnerships, it's time to start a new era in your relationship. Whether you're committing to a bond made of love, business, or friendship, you'll find so much truth in your connection. Use this energy to find peace as Venus retrogrades through your eighth house of intensity, creating problems as passions run amok and emotions enter dark places.
Taurus
With Venus retrograde spinning your seventh house of partnerships out of control, it may be time to rethink your commitments and your approach to falling in love. The problems weighing on your relationships will be hard to ignore. However, the new moon in Libra sparkles in your sixth house of cleansing and daily routine. You can create a step-by-step plan to bring your life back to a better place. Start small and soon, the change will be big.
Gemini
When the Libra new moon drops inspiration into your fifth house of creativity, fun, and pleasure like lightning, it may be time to embark on a new artistic journey. Express your heart through colorful mediums that tell your rawest truth. This will help you find truth and beauty as Venus retrogrades through your sixth house of work, forcing you to rethink the way you prioritize your responsibilities. Allow art to be your saving grace.
Cancer
There may trouble in paradise as Venus retrogrades through your fifth house of fun and pleasure. Sexual problems may arise, as well as a difficulty in finding enjoyment in your overall life. If this negatively affects your emotional universe, allow the new moon in Libra to bring you peace. Moving through your fourth house of home and family, it will be time to rest and care for yourself in the way you need to be cared for.
Leo
Your third house of communication will receive a spark of brilliance from the new moon in Libra. You'll be flushed with conversational genius and bright ideas that prove how smart you are. This will guide you through any problems on the home front as Venus retrogrades through your fourth house of family. Spearhead solutions and talk through any problems with your closest loved ones. This period is about revamping your intimate life.
Virgo
With Venus retrograding in your third house of communication, you may have trouble finding beauty in your thoughts. If your mind feels fogged up by negativity or slowed down by exhaustion, allow the new moon in Libra help you jumpstart another beginning. Radiating in your second house of value and money, it's time to rethink what is most important to you in life. What do you need in order to succeed? We all need a foundation to start from.
Libra
This new moon in Libra is a chance to reinvent your entire self. You've changed so much over the last year, and now, it's time to become the person you're meant to be. Maybe it's time to change your hair. Perhaps it's time to change your entire path in life. When Venus retrogrades in your second house of value and wealth, you may be challenged by an unstable ground. Trust that you will be able to find balance during the tumultuousness.
Scorpio
As Venus spins through your first house of the self in a retrograde, it's time to rethink all the toxic habits currently spiraling through your life. Are there patterns currently holding you back? Habits you know you need to break? When the new moon in Libra lights a flame in your 12th house of the unconscious, you should purge unwanted negativity through spiritual activities. Cleanse yourself from your deepest core, release, and reset.
Sagittarius
The new moon in Libra wants you to be social, to get out there and mingle with a wider collective of people who you can inspire and be inspired in return. This lunation also wants you to redefine your individuality; to be the change you want to see in others. Since Venus retrogrades in your spirituality house, you'll have to face the fears that arise when you are alone. Allow yourself to heal by sharing your experiences with others.
Capricorn
As Venus retrogrades throughout your 11th house of community, you'll be forced to reflect on the types of people you surround yourself with. Are there movements you no longer wish to be part of? Friendships weighing you down? It's time to let these things go, and as the new Libra moon moves through your 10th house of career, you'll be motivated to focus on your own personal goals rather than worry about others. Be your own best friend.
Aquarius
It's time to embark on an exciting and enlightening new adventure as the new moon in Libra rolls through your ninth house of expansion and wisdom. Say "yes" to new opportunities for growth and get out there and make some new memories. This will help you learn so much while Venus retrogrades in your 10th house of career house. Even if you're plagued by stressful thoughts about your life path, you'll find meaning in the present moment.
Pisces
This new moon in Libra is about finding passion in your life. Are you underwhelmed by your relationship? Unstimulated by your work? Are you ready to feel the fire of inspiration burning through you. Listen to your heart as it activates your eighth house of reincarnation. Rise from the ashes as Venus spirals through retrograde in your ninth house of adventure. Perhaps it's not so much about quantity and it's more about quality.