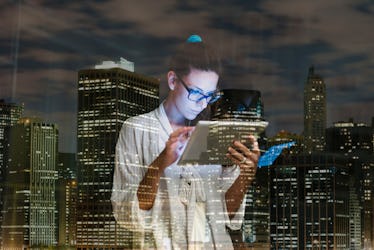 Your Weekly Horoscope Is Here & You're About To Feel So Invincible
I don't know about you, but last week went by faster than the speed of light. Finding a moment of rest was nearly impossible. Even if, despite the never-ending rush, you feel like you didn't actually get anything important done, your March 12, 2018 weekly horoscope is here to prove otherwise. You were simply doing some necessary brainstorming in that time, and this week, you're going to make something out of it.
On Mar. 17, Mars, the planet of instinct and action, makes a major move into one of the most ambitious zodiac signs of all: Capricorn. This is going to infuse you with an overall sense of confidence, and I'm not talking a brash or arrogant type of confidence. You're going to quietly accept your innermost strengths, and feel a deepened awareness of your goals in life. Mars in Capricorn will help you realize that you can accomplish anything you set your mind to.
This day also doubles as a new moon in Pisces, which will calm your soul while it stirs. The world will seem rosy-hued and beautiful, full of endless possibility. You'll feel cleansed, emptied of your worries, and open to new daydreams. The combination of this new moon and the energy from Mars will help you lay down the groundwork for your purest needs.
Aries
Your career will flourish easily this week, Aries. With your work life moving at the pace of your soul, you'll ride each wave like your were born to. You may realize you have a few new goals in mind, or new projects you'd like to start. None of this will feel overwhelming; just a calm understanding of where you're at. Use this week to take those first steps toward something big.
Taurus
You're going to feel inspired to commit to a self-care routine this week, Taurus. Your body is trying to tell you something important, so listen. You may want to reserve a few nights for some facial masks, healthy dinners, workouts, or any other spiritually cleansing activities you enjoy. You always do your best work when you're well taken care of.
Gemini
Your career may slow down this week, Gemini, but that's not a bad thing. You're not getting something you need right now and you may be procrastinating. Take this week, and use it to get small things done. The first steps you take will motivate you to take even bigger ones. Simple activities, like updating your website or writing down your weekly to-do list, can make all the difference.
Cancer
Mars moves into your seventh house of partnerships on Mar. 17, Cancer, which is a big deal for you. You're going to feel like making new friends, who will also double as some strong business connections. You need to harness this energy, so get out there and let the world see you in all your glory. Attend some events, work functions, or maybe even throw some parties yourself.
Leo
Your sixth house of health will be infused with energy from Mars, causing you to take a closer look at your aches and pains. I know you get antsy when you're not keeping up with the world, but you should spend this week remedying your issues. Purify your mind, take care of your body, and cleanse your soul. You'll feel revitalized from the inside out, ready to take on the world.
Virgo
Venus squares Saturn from Mar. 13 to 15, which indicates a need to pull back from all your impulsivity. You may be feeling a little unlike your usual self, perhaps a bit disorganized and reactive. There's a chance you'll feel a pang of anxiety come out of nowhere, but it's easily remedied by taking a moment to relax and regroup. You can handle anything, Virgo.
Libra
You're going to feel a deep need for emotional understanding this week, Libra. You want to be close to someone, to lavish yourself in some intimacy. Contact your loved ones, and schedule some quality time with them. It will center your restless spirit and allow you to feel grounded again. Your friends are your motivating force right now.
Scorpio
Have some fun this week, Scorpio! Your energy is running rampant, and you need stimulation. You may feel a bit winded, but it'll do you good to go out and explore anyway. Try out some activities you don't normally do, visit some places you don't normally visit. You're going to feel a lot more wild and untamed than usual, so run with the wolves.
Sagittarius
Your energy is geared toward prosperity this week, Sagittarius. The financial gain will replenish your soul, making you feel ready to take on the world. You'll probably hit a groove where making money will feel really comfortable. Stay focused, because there's a chance that you're learning how to flourish in a way you never have before.
Capricorn
You are supercharged with energy this week, Capricorn. Mars will be entering your sign, and you'll be so in touch with your powers, you'll feel unstoppable. It wouldn't be a bad idea to put yourself in charge: Lead the way for your loved ones, spearhead new ideas at work, and trust in your ability to effect great change in every aspect of life.
Aquarius
This is an excellent week for your love life, Aquarius. If you work hard and nourish your mind, you're bound to meet people who are healthy for your overall self. The connections you make and the things you learn from them will make you feel motivated to enjoy life, to appreciate the finer things. You can be emotionally distant at times, so try to open your heart a little, Aquarius.
Pisces
On Mar. 17, Mars moves into your 11th house of friendships, Pisces. This is a huge sign that you need to be surrounded by loved ones right now. Avoid too much alone time, because your soul needs to feel other souls. People are also the source of your career advancement right now, so take the first step to introduce yourself to some new faces.