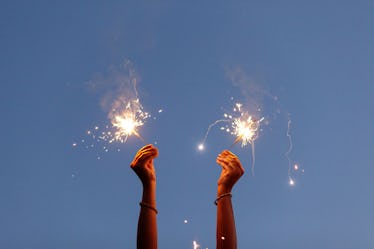 Your Weekly Horoscope Is Here & It'll Add Fuel To Your Fire
You've been bursting with ideas, watering the seeds, and now, it's time to sow all that you've been working for. Cancer season is fully underway, flooding your world with intuition and sensitivity. You're more receptive now than you have been in months, and the information you'll receive this week is only taking your spiritual strength to new heights. If you've been craving intensity, then your June 25, 2018, weekly horoscope contains everything you could possibly need.
The week begins with fiery and aggressive Mars rolling backwards into retrograde on June 26, revealing the source of your fire and how you use it. Although you may struggle to feel connected to your gut instincts, you're seeing yourself from a new perspective — one that allows you to fight for your goals in a much deeper way. Even if you're feeling frustrated at times, a full moon in Capricorn on June 28 will pull your energy into focus so that you can accomplish a big task. Capricorn, a driven and pragmatic earth sign, encourages entrepreneurial and productive burgeoning. Since the full moon is at time of culmination, you can expect the rewards to be immense. If you're having trouble finding a way to see the glamour in it all, Mercury entering ostentatious and confident Leo on June 29 will inspire you to relish your glory.
Aries
With Mars retrograde taking place in your 11th house of friends, you may feel shaken by competitive and dominating energy. Mars is your ruling planet, so you'll feel this retrograde harder than most. All of this can frustrate your social life, so focus on your own personal growth, on what you have power over. With a Capricorn full moon in your 10th house of social status, you can focus hard on accomplishing a task that brings you closer to the career of your dreams.
Taurus
Venus, your ruling planet, will form a square to lucky and bright Jupiter. The result? You'll feel like having lots of fun with your closest loved ones and reveling in joy. The only problem here is that a full moon in Capricorn takes place in your ninth house of learning and expansion. It wants you to focus on personal growth, accumulating knowledge, and exercising your mental chops. If you can find a way to merge learning with play, the results that you could have are infinite.
Gemini
When Mercury, your ruling planet, shifts into audacious and glimmering Leo in your third house of communication, you'll be dazzling with incredible confidence and wit, showing everyone in your world how intelligent you are. However, as it forms a square with Uranus, your mouth may shake things up until you're experiencing full blown tension. Remember to think deeply before committing to an interaction, because you want to make sure the result is what you want.
Cancer
The sun is shining in your first house of the self and your vitality is filled to the brim, your appearance is sparkling, and your energy is fully charged. Full moons always affect you on an extremely personal level, and when the Capricorn full moon takes place in your seventh house of partnerships, you may experience insecurity in your relationships and a desire to establish security within them. However, don't push or force anything that doesn't want to be forced. No matter what happens, you are always safe.
Leo
When Mercury shifts into your sign, you'll be gratified by grandiose visions and a larger-than-life perspective. With this energy, you can accomplish things that you normally just dream of accomplishing. Now is the time to add more gold and more diamonds to any project. However, as the sun, your ruler, forms an opposition with the sun, you may feel like some of your ideas prove unrealistic or futile. Don't lose your vision in the midst of disappointment. Some projects simply take more time.
Virgo
Your ruling planet, Mercury, enters your 12th house in the glamorous fire sign Leo. Your strongest thoughts will take place deep in your subconscious and you'll be envisioning beautiful things. Manifest accordingly. You have the power to attract success with positive thoughts. However, as Mercury forms a square with Uranus, your mental perspective could take you to uncomfortable places that motivate you to make a drastic change. Don't allow anxiety about your current state to dictate your future.
Libra
With your ruling planet, Venus, flushing your 11th house of community with glorious energy, your social life is making you feel so wanted and important. However, as Venus forms a square with Jupiter, your social life could also drain you of energy and resources. If you live in the moment, it's easy to fork over all your cash for pleasure, even if you dread looking at your bank account later. It would be wise to set boundaries for yourself that hold you back when you feel like indulging too much.
Scorpio
With Mars retrograde hitting you harder than other zodiac signs because it's your ruling planet, your emotions are on overdrive. This aggressive planet sits in your fourth house of family, making you overprotective, fiercely devoted to loyalty, and frustrated when insecurity strikes. However, a full moon in Capricorn in your third house of communication combs through your intensity, allowing you think with clarity. Take deep breathes and say nothing more than what needs to be said.
Sagittarius
Jupiter, your ruling planet, has been flooding you with fierce sensitivity and intuition in your 12th house of spirituality for many months now. Your innate understanding of the universe is sharpening. Information and insight falls in your lap. However, as Jupiter forms a square with Venus, you may feel frustrated that the revelations you're making have nothing to do with your reality. You can't apply them to work or anything practical. However, remain trusting of the process. Something big is forming within.
Capricorn
With a full moon in your sign taking place, you're fully in touch with your true self. Productivity and hard work is flowing through your fingertips and you'll feel like you can accomplish anything you set your mind to. A large reward or revelation is heading your way. Take care when the sun opposes Saturn, your ruling planet. You may take discipline and restriction too far. In your hard-working and focused mode, you could be oblivious to brilliant ideas. Allowing a bit of spontaneity to derail projects might just add the sparkle it needs.
Aquarius
With your seventh house of partnerships lit up by Mercury in glamorous Leo, you're taking your relationships to the next level with intense communication and thought, showering your allies with attention and care. However, as Mercury forms a square with Uranus, your ruling planet, this communication could has upheaval and instability in your fourth house of family. If you speak too much of your truth, there's a chance things could change to the point of no return. Make sure you're ready for the repercussions that inevitably follow your confessions.
Pisces
Neptune, your ruling planet, is fully engaged in a retrograde transiting your first house of the self. You may be fighting reality by throwing yourself deeper into a dreamworld, escaping through pleasure, and numbing with substances. Take care not to drift so far off the edge that it's hard to find your way back. However, with a Capricorn full moon steadying you in your 11th house of community, you will find that projects you commit to with your friends make reality much more bearable.
This article was originally published on