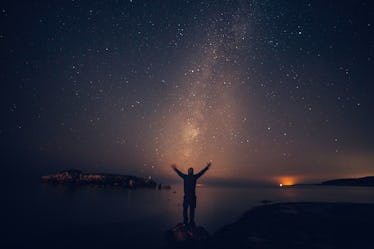 Your Weekly Horoscope Is Here & It's An Emotional Roller Coaster
Cactus Blai Baules/ Stocksy
Happy MLK, Jr. Day, readers! I hope you're enjoying the holiday, and taking a moment to commemorate the legendary Dr. Martin Luther King, Jr. today. Just so you know, Dr. King happens to also be a perfect example of the steadfast, determined, and bold qualities of his Capricorn zodiac sign. Now, to get down to business. Your Jan. 15, 2018, weekly horoscope is here, and the planetary alignments will provide enough plot twists to keep your week very interesting.
Jan. 16, 2018, will be the first new moon of the year; a time for putting your new year goals into action. Whatever you are most committed to, now is the time to begin your work and to prove to yourself that you mean it. Make tomorrow's new moon your initiation to take solid steps toward goals if you have resolutions to get healthy, to have the courage to say no to things you no longer want to do, or to work on your interpersonal relationships. Make it a statement to yourself and to the universe that you're no longer playing around.
Venus and Mars also change signs this week. Venus goes into Aquarius on Jan. 17 and later, Mars moves into Sagittarius on Jan. 27. Relationship concerns will move from emotional and practical matters to a more lighthearted, exploratory and curious phase.
Here's the effect all these moving planets will have on your life this week.
Aries
The new moon tomorrow will have you focused on career advancements, but the planet Uranus could lead to some upsetting challenges. Some unforeseen circumstances may change the direction you had planned to go in your career in some way. Roll with it, and keep your eye on the prize. Ultimately, you'll get to where you need to go. With Saturn in your 10th house, it just might change your itinerary.
Taurus
This week will have you feeling adventurous AF, Taurus, as you have six planets in the explorative sector of your chart. Be ready for some sudden changes to your travel plans on Jan. 17, when the new moon clashes with Uranus. Later in the week, when your focus shifts to career concerns, it's because Venus (the planet of love and money) will be moving into your 10th house of honor and achievement and will stay there for approximately a month. Have your business cards ready.
Gemini
You've probably already noticed that this week has been far from boring already, since Uranus was at a tough angle to the sun in your eighth house of transformation. The eighth house is a mysterious one, but the themes in it suggest unanticipated changes when it comes to your financial obligations, your sex life, or your psychological health. You also have Saturn in this house, so it's likely to challenge your will to go on. Be patient. There are so many gifts waiting for you on the other side of this, Gemini.
Cancer
Your seventh house of partnerships is crowded with planets this week, including the planet of sudden change — Uranus — in hard aspect to the sun. What that means is, you've got some relationships that will suddenly change this week. Whether that's a good or bad thing is really a toss up. In fact, it depends more on your perspective than it does on the events themselves. So my advice is to go with the flow and stay positive.
Leo
Your work life and your daily responsibilities around your health will undergo some surprises this week; it could be that an update to technology within the workplace could throw a wrench in your assignments, or you could receive some news about your health that could seriously mess with your schedule. It's all temporary, Leo. Expect a boost to your social life when Venus enters Aquarius on Jan. 17, and plan accordingly.
Virgo
Your fifth house, which governs the areas of your creative life, children, and fun-filled romance is going to go through some changes this week. The way this plays out is up in the air; you might have your partner spring the news on you that they want children, or you might hear your partner is pregnant! It could also be that a creative project you've been working on gets a wrench thrown in it. But with Jupiter in a harmonious aspect to the new moon on Jan. 17, the news will likely turn out to be for the best.
Libra
Your home life could have a few unexpected upsets this week, and with Uranus involved, that could mean an electrical shortage or your internet going out at an inopportune time. You could also get some unexpected news from your family, roommate, or landlord. But when Venus enters Aquarius on Jan. 17, in your house of partnership, your whole life will lighten up.
Scorpio
All the upsets that happen this week will be easily handled by you Scorpio, with Jupiter and Mars in your sign you have the optimistic determination to keep going no matter what. Uranus is causing disruptions in your third house of communication, local travel, and local friendships. You could have some disruptions in this area, but with your attitude, they'll seem like minor upsets. If you do get stressed, a good day to unwind is Jan. 19. Take some time to see a good movie or pick up a book you've been meaning to read.
Sagittarius
This week's surprises are extremely beneficial to you — more so than any other sign, Sagittarius, so you can go ahead and celebrate. Today, Jan. 15, you're likely to see some unexpected financial gains thanks to Jupiter and Pluto's alignment. These are planets that are associated with good luck and sums of money. That said, there could be extra expenses that come on the heels of the new moon in your second house of earned income. You may have to spend that money to make more of it, but you will make more.
Capricorn
This week you might feel like you're protected from the chaos surrounding you, with so many planets in your sign. You have every reason to celebrate on the new moon of Jan. 16, even as Uranus steps in to shake things up. You might feel like you are ready to let go of old habits that are holding you back, and Uranus will help you do this. This is the start of a brand new cycle for you, Capricorn.
Aquarius
This week is going to be about handling your secrets and healing your mind. If there are any challenges you've been feeling or stressors you've been ignoring psychologically, this week is a good one to face your anxieties and fears head on. You may feel like you're hiding away from the world for the week as you work on your mental and spiritual health, but by the weekend, you'll be ready to engage with the outside world.
Pisces
This week gives you a chance to reinvent your social life and reclaim the social circles that support your dreams. You have six planets in your eleventh house of friendships, groups and organizations, as well as your hopes and dreams. When Uranus clashes with the new moon in this house, you may have to be ready to say goodbye to the connections that no longer appeal to your highest goals. However, letting these connections go is in your best interest, ideologically speaking.