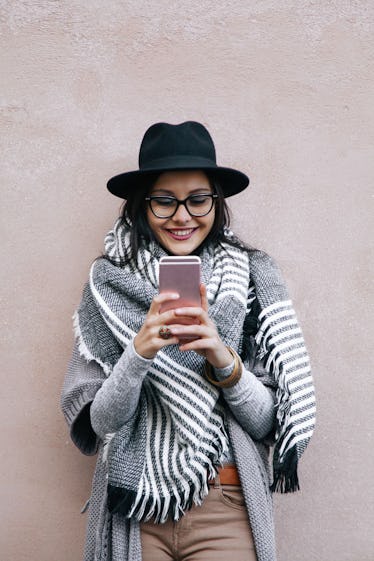 Here's Why Adults Should Tell Everyone *Exactly* What Gifts They Want This Year
Remember when you were younger, and you'd open a present you definitely didn't ask for, make a face, and your parents would send you to your room, or reprimand you in some way or another, absolutely horrified by your behavior? Well, while I agree it's definitely rude to scrunch up your nose in disgust at a gift your loved one clearly took the time to pick out for you, you shouldn't have to apologize for knowing exactly what you want for the holidays. Luckily, Hinted's holiday wishlist app and #NoReturns challenge can help prevent these super awkward moments from happening this Christmahanakwanzika season and beyond by allowing you to compile a personalized wishlist you can share with family and friends so they'll know exactly what you're looking to receive.
Essentially, the concept behind Hinted is to make a digitized wishlist you can send along to friends, family, your S.O., and it takes the guesswork out of going to the store, browsing through shelves of items and racks of clothes, and having to make an (oftentimes un)educated decision about what to buy. Honestly, it's pretty genius, and I'm kind of salty I didn't come up with it myself because, seriously, I can't be the only one who'd wait around for their father to pick through the Sunday paper, present me with the Toys "R" Us holiday catalogue, and circle everything I wanted with a Sharpie marker. Kids certainly aren't shy about telling their parents exactly what they're wishing for, so why should adults be?
Hinted was created by Self's former editor-in-chief Lucy Danziger in 2016, and the inspiration to launch the app came in the form of a kind of "ah-ha!" moment when Danziger thought about not only how many impersonal presents she'd received, but also those she'd gifted over the years, and how much waste they were responsible for. "I hate giving gifts that are not the right ones and always insist that my nieces and others could return their gift for something they would actually use," Danziger told Elite Daily over email. "I thought, if everyone had a list we could all save so much time and money — and the planet."
Currently the app is only available for iOS, but you can logon to Hinted.com and create an account, too. You can curate up to 10 wishlists, and there are a ton of items to browse and add through the app itself, but you can also add products from virtually anywhere thanks to the registry's AI uploader. You can also download the Hint button to your Google Chrome browser and add items that way, too.
The best part is, nothing is off limits. You can save clothes or cosmetics to your list, as well as wellbeing experiences, travel items, hotel stays, tech gadgets, fitness gear, pets, pet accessories, home decor, charities, and the list literally (and virtually) goes on. Once your wish is made public, friends and family can browse your items and make a purchase based on your "hints." There's really nothing subtle about it, and that's what makes Hinted so fabulous.
For the 2018 holiday season, Hinted's mission is to help save money, time, and reduce the massive carbon footprint the retail industry has left on our planet through its #NoReturns challenge. All you have to do is sign up (either online, or through the app), make a list, and share it via social media using the hashtag #NoReturns Holiday so that anyone shopping for you knows exactly what you want, and how you want it — sizes and all.
"This coming holiday, 45 percent of recipients will return gifts, for a total of $90 billion gifts going back," Danziger tells Elite Daily. "If we all created and shared lists of what we wanted (experiences and other gifts we would love) we could save on a vast amount of that waste." And to speed things along, from now until Jan. 1, Hinted will be donating all of the proceeds collected from its affiliate sales to Oceana.org, the largest international advocacy organization for ocean conservation.
Remember, asking for exactly what you want isn't selfish, or rude. I know myself, and I would much rather buy someone a gift I know they'll love, rather than picking something up that I can only assume they'll enjoy. By using Hinted, you and your loved ones can cut back and eventually, hopefully, stop wasting time, money, and the natural resources affecting our home.