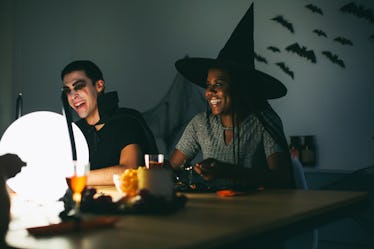 Your Halloween 2017 Horoscope Will Reveal Whether You're In For Tricks Or Treats
Stocksy/Bonnin Studio
Halloween is right around the corner, and if you're a grown up, you know that this holiday tends to lead to some pretty unacceptable behavior, and you're probably either completely on board with that, or you think everyone needs to put on their big kid pants and stop acting like fools. One thing we can agree on (no matter what age we are) is this: Halloween is our civilization's best excuse to excessively overindulge while wearing a costume. Halloween is a fairly unpredictable holiday for most of us; we wait to make plans until the last minute, and we choose a costume five minutes before we leave the house. But according to your Halloween horoscope of 2017, you might want to rethink your approach to this crazy holiday this year.
It looks like you'll have more than one opportunity to get into the holiday spirit (with a ton of party invites) to choose a really cool costume you can be proud of, and to wow the people in your social circle with your costume-crafting skills. Not to mention, the stars have set us all up to look good while we're out there mingling. Just be careful not to completely overindulge.
Here's what the stars are predicting for the most unpredictable day of the year.
Moon Trine Pluto: Intense Emotions
Pluto is the planet that most closely represents what Halloween was originally about, as it governs death, rebirth, and transformation. During the ancient Celtic festival of Samhain, people would light bonfires and dress up in costume to ward off ghosts, and this particular Halloween, with the moon trine pluto, we'll be filled with our own demons to ward off.
The moon is the planet of our subconscious beliefs, our instinctual gut feelings, and our relationship to our mothers (which can be loaded). Pluto is the planet that drives us to dig deep and examine these subconscious beliefs and emotions, so we can release them and be transformed in order to grow.
Having these two planets in a trine on Halloween will strongly affect all of us, (especially those of us who have our natal sun or moon in Cancer or Scorpio), as you'll naturally come across as intense and powerful. Beware of a tendency to seek out drama under this influence, and maybe keep your alcohol intake to a moderate level, since that can inflame tensions. If you remain balanced, you can count on deep, intimate conversations with others that last until the sun comes up. If you happen to get laid on Halloween, it'll be a transformative night as well. This aspect is a life-changing one.
Sun, Mercury In Libra: Sociability
With three planets in Libra, this Halloween promises to give you literally more party invitations than you'll even know what to do with. Libra is a social sign who loves to party. Sure, Libra likes to indulge, but more than anything, Libra loves to be out and about with friends, embracing the traditions of Halloween with open arms. Even if you're a Halloween Scrooge, don't expect to show up to a party with no costume. Having all these planets in Libra will encourage you to step outside your comfort zone and into Mario and Luigi costumes with your best friend.
Venus In Libra: Creativity In Partnership
This brings me to another point: Having Venus, the planet of creative ideas, sociability, and partnership in Libra offers us the chance to come up with our best costume ideas when we join forces with someone else. We also have Mercury in Libra as I mentioned above, and having both these planets in the sign of the scales is a great placement for teamwork. Should you choose to join forces with a friend or significant other, whatever costume idea you come up with is sure to impress everyone.
With all the invitations you'll have on the table, try to make a decision before Halloween night, and don't spread yourself too thin. All these planets in Libra can make us a little indecisive and prone to people-pleasing. Remember, you don't have to say yes to everything.
Happy Halloween! Stay safe everyone!