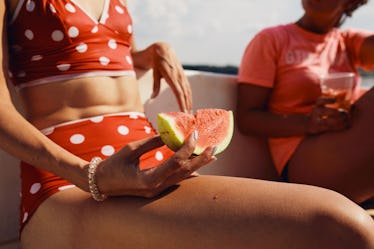 Your Go-To Sex Playlist Song, Based On Your Zodiac Sign
Listening to music during sex has its pros and cons. For example, if you don't have Spotify premium, you might find yourself in the middle of the act while listening to an ad about upgrading your subscription (not speaking from experience or anything). But sometimes, that one song starts to play that just feels really right. I don't know about you, but I definitely have a go-to sex playlist song. And while this trusty tune can change over time, the details of a good sex song usually stay the same.
Finding a perfect sex playlist song that can elevate already good sex to even better sex can be about timing, subtlety, and sensuality. You don't want something too bold or repetitively circulated that will pull you out of the moment. You also don't want something that too slow or too fast. I personally love "Earned It' by The Weeknd, which is a staple on many (maybe my own) sex playlists because of its slow cantor and sexy lyrics.
If you want some inspiration for your sex playlist, consider the following songs that you might be low-key obsessed with, based on your zodiac sign.