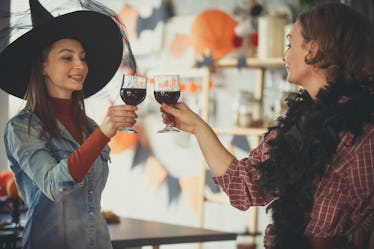 Your Favorite Part Of Halloween, According To Your Zodiac Sign
Who could possibly hate Halloween? It has something for everyone, no matter who you may be. Whether you're fully on board with horrifying monsters and bone-chilling thrills or you'd rather avoid feelings of complete and utter terror, there are so many different ways this holiday can be enjoyed. For weirdos like me, Halloween is the one night out of the year where you can embrace your inner freak without receiving an ounce of judgment for it. You can do things like watch horror movie marathons, wear creepy masks, and pretend to be a zombie without anyone telling you that you need help. If you're more of a scaredy cat, Halloween is made of pure nostalgia. Between childhood flicks like Halloweentown and Hocus Pocus, trick-or-treating for candy, and glamorous costume parties, I bet you'd be lying if you say you're not into Halloween. If you're telling the truth, well then hopefully your favorite part of Halloween, according to your zodiac sign, will change your mind.
It's said that the veil separating our world from the spirit world grows thinner on the night of Halloween. If you're into "black cats and witches and stuff" (yes, we are, Max Dennison), then who knows what ghouls, goblins, and ghosts will come out to play? Might as well find a way to dance with the devil, if you know what I mean.
Aries: All The Terrifying Mazes And Haunted Houses
An Aries can't resist an adrenaline rush, which is why all the Halloween thrills are like a balm to their soul. They'll brave any Halloween haunt and enter any haunted house, or perhaps a drive-thru Halloween experience. The feeling of being spooked leaves them feeling totally alive.
Taurus: All The Candy And Sugary Sweets
What would Halloween be without the wide variety of candy and ghoulish desserts? It's potentially the most important thing about the holiday and a Taurus is here for it. Sensual by nature, they can't resist their spooky cravings.
Gemini: Pretending To Be Someone They're Not
You all love to hate on how many personalities a Gemini has, unless, of course, it's Halloween. They'll probably wear several costumes, ranging all the way from cute to downright horrifying. The best part? They stay in character the entire time.
Cancer: Handing Out Candy To All The Kids
A Cancer may be a homebody, but that doesn't mean they plan to sit out on the Halloween fun. Passing out candy to all the adorable little trick-or-treaters makes them giggle with excitement. They love getting to see how cute all the kids look.
Leo: Winning First Place In The Costume Contest
On Halloween, a Leo's show-stopping, majestic, and lively nature is set on fire. They work hard to create the best possible costume ever and you know they plan to walk away from a Halloween costume contest as number one, settling for nothing less.
Virgo: Gathering Around The Campfire For Scary Stories
A Virgo is all about telling creepy horrifying stories that keep everyone awake at night. Rather than tell stories that are purely fictional, they'll probably prefer the stories that are true. They'll even have evidence to prove it, making it that much scarier.
Libra: Going Halloween Shopping, Of Course
You know a Libra loves pulling out their credit card and going ham on the Halloween spending. They enter a pop-up Halloween shop and add literally every spooky and adorable decoration to their shopping cart. And you know their costume won't be cheap.
Scorpio: Having A Horror Movie Marathon
You'd be hard-pressed to find a Scorpio who doesn't absolutely love horror movies and thrilling flicks. Throughout the month of October, they're breaking out every terrifying classic. While everyone else screams, a Scorpio smiles with satisfaction.
Sagittarius: Obviously All The Halloween Parties
During October, a Sagittarius is a witch on a broomstick flying through every single Halloween event there is. They're all about the community of weirdos that gets brought together around this mystical holiday. Whether it's a party or a festival, a Sagittarius will be there.
Capricorn: Winning All The Halloween Games
What would Halloween be without carnival games like bobbing for apples and participating in the dunk tank? A Capricorn is ambitious as always, and you know they love any chance for their prowess to shine. The Halloween victory makes them so nostalgic.
Aquarius: Visiting A Pumpkin Patch With All Their Friends
An Aquarius is all about bringing together their circle of friends and doing something memorable on Halloween. What's more perfect than a group trip to the pumpkin patch? You bet they'll all be taking adorable Instagram photos there together.
Pisces: Carving Pumpkins And Getting Crafty
A Pisces is in love with the fantasy of Halloween and the chance to create some spooky art. Whether their carving pumpkins, setting up creepy decorations, or making some devilish arts and crafts, a Pisces is totally in their happy place.
This article was originally published on