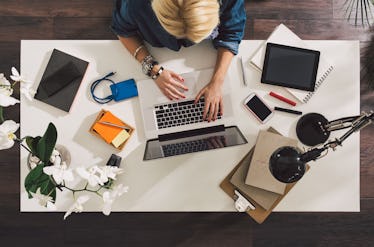 Your Autumn Equinox Career Horoscope Is Here & It's About Making Connections
Tis the season of the harvest and the hustle. Let's face it, even if you're spending your cash on a pumpkin spice latte every day of the week, you still have no choice but to grind. Which reminds me, your Autumn Equinox career horoscope is about making the right connections, so let's get it, because there is no time to waste. Some of us are out there networking our little hearts out, while others are hard at work behind the scenes. Whatever the case may be, don't hesitate to pat yourself on the back, and know that your hard work will pay off sooner than you think.
I've said this before, but this is exactly what the autumn season is all about. You get what you give, and if you've been putting in the work, the season of the harvest is here, and you're about to reap all the benefits. However, with Venus, planet of love and beauty, traveling through smoldering Scorpio and turning retrograde on Oct. 5, we may or may not experience a few bumps in the road, in terms of our relationships. Remember, Venus governs everything related to pleasure and money, as well as the people we cherish most in our lives. In Scorpio, Venus wants to get to the bottom of things, and the shadows that are being revealed, will ultimately help us in the long run.
With that being said, here's a closer look at what's in store for you, career-wise, this season:
Aries: You're Making Big Moves
You embody the meaning of hustle this season, Aries babe. You've made amazing connections after finally taking that leap of faith, and moving closer towards your dreams. Do you feel accomplished? This is only the beginning. Venus is on your side, and there's money involved, too.
Taurus: You're Mingling With The Right People
Lots of changes this year, but you're finally headed towards the right path. With gorgeous Venus, your ruling planet, traveling through your area of partnerships this season, you're on fire. The sun is also revitalizing your sixth house of work and daily routine. Promotion anyone? This is your time to shine, and there's a full moon in your sign on Oct. 24. Just wait for it.
Gemini: You're Enjoying Your Time In The Workplace
You're finally starting to live your life, and after a lot of soul searching, things are finally falling into place. How do you feel? Aside from loving your job, you're also learning to set emotional boundaries, and rid yourself of the toxicity. You're doing the right thing, Gemini.
Cancer: Your Creative Juices Are Flowing
Are you working on a project? Or perhaps you're considering a new collaboration? There are definitely some passion projects in the horizon for you, Cancer. However, keep an eye out, as Venus in Scorpio might teach you a thing or two about your current prospects. Listen to your intuition.
Leo: You're Entertaining The Idea Of Working From Home
Anything's possible, Leo. Working from home, and taking some much-needed time off, is definitely top of mind for you these days. Besides, you earned it, and most of us can work virtually, anyway. Make sure you don't work too hard though, as your health and well-being are priority.
Virgo: Your Words Are Charming And Extra Persuasive
Oh, hey, Virgo. Is that you? I mean, it's not your fault you can hear a pin drop every time you say something. Nah, actually it is. People really care to hear what it is you're about to say. So, if I were you, I'd tell your bosses that wonderful plan you've had brewing in your mind these past couple of months. The time is now.
Libra: You're Finally Asking For That Promotion
You know how hard you've worked for this, Libra. So, then, why not ask for what you deserve? In fact, with Venus traveling through your second house of money and self-worth, you're in for a treat this season. Truth is, you may not even have to ask for it.
Scorpio: You're Radiating Charisma
You're feeling yourself, and I honestly don't blame you, considering your birthday season is right around the corner. I'm not going to lie, all eyes are on you these days, and you're magnetic AF. In other words, don't let this sass go to waste, Scorpio.
Sagittarius: You Can See Right Through People
Don't question your intuitive downloads these days. With gorgeous Venus traveling through your secretive 12th house of individual realms, you're reading between the lines at work, and seeing right through the bullsh*t. You're also owning your self-worth, so, move over haters!
Capricorn: You're Influencing Your Extended Network
When are you not shining in the workplace? However, after a lot of building, creating, and networking, you're finally getting the attention you deserve. There's still more coming, so don't stop hustling, Capricorn.
Aquarius: Your Superiors Find You Incredibly Valuable
Everyone is celebrating your success, including the higher ups. Don't let this magic go to waste, Aquarius babe. Now, I know you're more restless than ever, so try to tone it down as there are a lot of eyes on you during this time.
Pisces: You're Moving On With Your Life
Change of heart, Pisces? Perhaps. Although, you're the same person you once were, and there's so much in the horizon for you. Are you ready to move on? Granted, it's important to show up for work, but it's even more important to show up for the things you love.