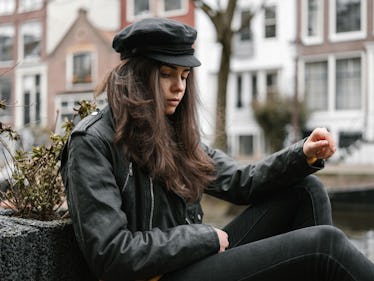 How You Should Start Over This Autumn Season, According To Your Zodiac Sign
With fall approaching and summer coming to an end, it's important to acknowledge the cycles of mother nature, as well as the progress you've made throughout the past seasons. I'm going to reveal what part of your life you should reset during the autumnal equinox, according to your zodiac sign, and we can go from there. In the meantime, let's talk a little bit about the autumn equinox, and the true meaning of this mysterious season, shall we? Who knows, maybe you're just reading this for the juicy 'scopes, but how do you expect to reset without any context of this magical season?
The fall is also referred to the season of the harvest, as it is a time for growth and deep preparation. Imagine, our ancestors had no choice but to mentally prepare for the winter, not to mention work their asses off to make sure they had everything they needed for those cold dark nights. Speaking of, are you mentally, physically, and emotionally prepared for those harsh winter days, where you have no choice but to face yourself, and your truth? Granted, this all sounds super intense, considering we're just talking about winter, but it's still important that we embrace the spirituality and symbolism of it all.
With that being said, here's some advice from the cosmos, in terms of your autumn season reset:
Aries: Trust The Universe
With the sun traveling through the southwestern side of your chart, you're finally opening up, and integrating yourself into the life of others, and vise versa. It's time for you to release the pent up anxiety, and remember that there's people you can count on. The universe has your back, Aries.
Taurus: Put In The Work
This season kicks off with the sun traveling through your practical sixth house of health and daily routine. Are you putting in the work? How bad do you want it? The cosmos are want you to consider your goals first.
Gemini: Embrace Your Individual Truth
You have an exciting season ahead, Gemini. With the sun shedding its light over your authentic fifth house of romance and creative expression, you're embracing your individuality more than ever. How good does it feel to be you?
Cancer: Nurture Your Emotional Self
Take it easy, Cancer. The sun lights up your domestic fourth house of home, family, and emotional foundation on Sept. 22, and you're craving privacy more than usual. Rest up and spend time with your loved ones.
Leo: Communicate Your Thoughts
Something on your mind, Leo darling? With the sun traveling through your witty third house of communication, siblings, and immediate network this season, you're socializing and chatting up a storm. There's nothing wrong with telling the world how you feel, right?
Virgo: Start Valuing Yourself
After a stellar solar return, it's time to bask in the pleasures of life, not to mention your gorgeous birthday presents. With the sun traveling through your second house of income, values, and self-esteem this season, you're in the mood to indulge, and well deserved, Virgo.
Libra: Change Up Your Look
Happy birthday, gorge! Your birthday season is finally here, and like a true daughter of Venus, you're glowing. You always make a dazzling first impression, so how about a new look to go along with it?
Scorpio: Recharge Your Energy
Taking some much-needed time for yourself these days? With the sun traveling through your secretive 12th house, you're hibernating for a bit before your birthday season. By the way, this is a good time to find closure within your relationships.
Sagittarius: Spend Time With Your Tribe
There's nothing you love more than a good time, right? Well, lucky for you, the sun lights up your friendly eleventh house of groups and extended network this season. Time to get your networking on!
Capricorn: Set Your Goals
You've always been the ambitious type, but with the sun shedding its light over your tenth house of rulership and destiny in the world, you're highly focused on your achievements during this time. Go do what you do best, Capricorn.
Aquarius: Expand Your Horizons
You're coming out of the dark this season, and you're finally ready to take that leap of faith. With the sun traveling through your expansive ninth house of personal philosophy and travel, you're craving adventure and testing your limits. Anything's possible, Aquarius.
Pisces: Make A Connection
This is a mysterious season for you, Pisces. You're in the midst of great transformation, and you're craving real intimacy during this time. Also, scratching the surface isn't going to cut it. It's all or nothing for you, and you're ready to fully merge with someone, and watch your souls intertwine.