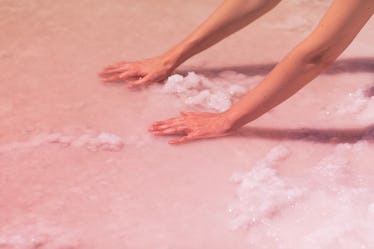 Your Weekly Horoscope Will Prove To You That You Can Survive Anything
If you think you've got nothing to look forward to, you're wrong. We're well into the revitalizing month of April, and its sparkle is finally beginning to infuse our souls. If you sit still long enough and connect with the present moment, I bet you'll feel April's tingling sensation. It's springtime and the birds are chirping, the flowers are blooming, and sunshine is beginning to dispel all your worries. Times have been tough lately, I know, but your April 9, 2018, weekly horoscope is here to reveal the reason behind all your struggles.
We've been in Mercury retrograde since March 22, and if you've been feeling frustrated beyond recognition, I have some good news for you. On Sunday, April 15, the communication madness will finally come to an end. You just need to hang tight and bear Mercury's last few hurrahs until then. It'll all be worth it though, because on that very same night, we'll be gifted with a new moon in Aries. A new moon always sets us free from all the chaos in our lives and provides us with a fresh slate upon which we can start over again. When a new moon occurs in action-oriented and empowered Aries, you'll feel inspired to channel your energy into something beautiful. It may also unmask trauma because it is conjunct Chiron (planet of the wounded healer). However, your scars might just remind you how strong you truly are.
Aries
Even though Mercury, your health and work planet, is still in retrograde, the turmoil is almost over. You've gotten used to the pain and this week, it will unveil a renewed sense of confidence. You'll feel OK with where you're at in life and trusting of what the future holds. If you feel the beginnings of a brilliant idea coming your way, grab onto it. The new moon in Aries on April 15 will allow that idea to build on itself.
Taurus
You'll experience the initial vibrations of the sun moving into Taurus next week. Even though you might feel like exerting pressure on the world, remember that Mercury is still in retrograde and you should think twice before taking action. However, toward the end of the week, your aura will be enticing and alluring to everyone around you. The new moon in Aries on April 15 might provide you with a perfect opportunity, so stay receptive.
Gemini
You might feel a deep connection to your inner truth and this will expose itself in all your relationships, especially with Venus in trine with Mars. You might feel like being overly honest with your loved ones, thinking they'll be open to it. Instead, try being there for others in the way they want you to be. What you think is best for them may not necessarily be what they need right now. Your energy is very healing at the moment, if used delicately.
Cancer
Mercury retrograde may be infusing your relationships with conflict, but this week you'll experience a lull in the drama. Use this week to mend anything that needs repairing with your loved ones. Stay calm, compassionate, and open. This can ensure that everything is smoothed out by the time Mercury goes direct on April 15. You can use the energy from the new moon to take your relationships to even better places than they were before.
Leo
Your charisma will be almost supernatural this week. You'll be especially in tune with the needs of others and even more deeply in touch with your soul. You'll feel like sharing everything you've got. To ensure the smoothest conversation, wait until after Mercury goes direct on April 15 to expose anything drastic about yourself. The new moon on the same day might sprinkle seeds onto the fertile soil of your spirit. Don't waste your burgeoning energy.
Virgo
The sun will square Pluto, making you feel like finding a moment of rest in this chaotic world is nearly impossible. Things are interesting, it's true, albeit complicated. You'd like to keep moving but you're running on low fuel. This week is perfect for some solitude. Dedicate time to some self-care and rejuvenate. By the new moon on April 15, you'll feel well-rested and ready to take on endeavors with even more strength than before.
Libra
Mercury retrograde is still causing discomfort in your seventh house of partnerships. Conflicts can bring you closer to your loved ones or drive an even bigger wedge into your relationships. Hang tight and approach tense conversation with empathy and understanding. Mercury goes direct on April 15, which smooths out the kinks. The new moon on the same day will provide you with space to heal all your wounds.
Scorpio
Energy from Venus forming a trine with Mars may make you feel overwhelmed by emotions. This, coupled with Mercury retrograde effecting your sixth house of health, may make you feel exhausted and perhaps even ill. However, this will all be over on April 15 when Mercury goes direct. The new moon on the same day will give you a jolt of energy, making you feel alive again. Get out there and connect with others.
Sagittarius
Your love life has been feeling slow and complicated lately due to Mercury, your love planet, being in retrograde. Venus forming a trine with Mars heightens passions, which only increases the disappointment. However, everything will start making sense again once Mercury goes direct on April 15. The new moon may cause you to look deeply into trauma that is causing issues in your love life, but it will also give you the strength to move on.
Capricorn
Mars has been in your sign, filling you with vitality. However, the fact that the sun is sitting uncomfortably with Pluto, planet of resentment, makes your excess energy feel toxic. This week, things will begin coming into focus, giving you a better idea of what you should do with yourself. By the time the new moon comes around on April 15, you'll feel completely inspired to take on a new endeavor with full force.
Aquarius
You may have experienced some complications in the way you communicate with others during Mercury retrograde. However, you'll notice things starting to smooth out this week. You're trying new ways of approaching difficult topics, and learning how to read others better. By the time this retrograde ends and the new moon begins on April 15, you'll feel like you learned something valuable about yourself. Remain open to wisdom.
Pisces
You might be feeling constrained and melancholy lately with the sun and Pluto troubling each other. The fact that Mercury retrograde is screwing with your finances lately doesn't help. However, the restrictions will begin to lift this week and opportunities may finally begin coming your way. By the new moon on April 15, you might feel ready to take matters into your own hands. Do something you've never done before.