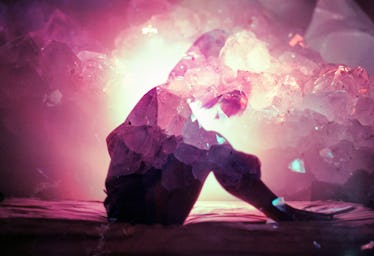 Mercury Retrograde Is Going To Mess With Your Sleep, But Here's What You Can Do
Rewind a few months back to the tail-end of December 2017, when the solar system finally calmed TF down and everything was relatively copacetic heading into the new year. Well, my friends, come March 23, Mercury will be in retrograde once again, marking the first of three times you can expect the smallest planet to spin backward on its axel, throwing us, as well as the rest of the universe, off until April 15. Despite the Old Farmer's Almanac stating your intuition will be extremely on-point during this time, you sleep less when Mercury is in retrograde, which could overshadow any of the positives you might otherwise reap from this weird planetary event.
Here's the scoop for those of you not up-to-date on astrological happenings: When Mercury is in retrograde, NASA's sister site StarChild reports, the planet's orbit does a 180 and spins backward — or, at least, it appears to be moving backward in relation to Earth. It's also when a lot of weird sh*t tends to happen: You might become even more indecisive than usual about what to eat for lunch, you can expect to be in the worst mood of your life (yeah, worse than PMS, friends), and apparently, the beautiful sleep pattern you've got going on is done for.
But beauty sleep is non-negotiable, so even though the solar system might be out of whack, you need to make sure your sleep cycle isn't. Here are a few expert tips to guarantee you'll sleep soundly over the next few weeks, despite Mercury's radical behavior.