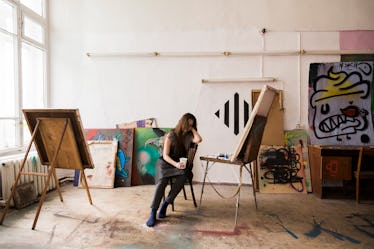 How To Feel Awake After A Nap With These 6 Life Hacks That Don't Even Involve Coffee
Naps are the basically the closest thing to heaven on earth for the average human. When you're feeling tired, and you have a Sunday afternoon with nothing on your schedule, it's the best feeling in the world to melt into a nap and sleep for as long as you like — except when it leaves you feeling all kinds of out of it once you wake up. For people who have trouble figuring out how to feel awake after a nap, sleeping for too long is one of the first no-no's to be aware of.
The ideal nap is, ironically, a lot shorter in duration than you might think: According to the National Sleep Foundation, sleeping for 20 to 30 minutes is the right amount of time to gain a much-needed boost of energy, without any of the grogginess that might come from sleeping longer, and entering a deeper stage of your sleep cycle.
The best thing that you can do to avoid grogginess is to try not to sleep for too long. But if you do your absolute best on that front, and you still wake up feeling unsure about what planet you're living on, fear not: There are plenty of ways to wake yourself up, and no, you don't necessarily have to chug a whole bunch of coffee. Here are six easy ways to get yourself out of your groggy funk, if you're not in the mood for a shot of espresso.