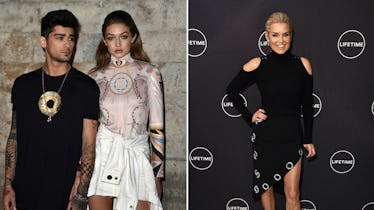 Fans Think This Cryptic Post From Gigi Hadid's Mom Is About Her Split With Zayn Malik
Pascal Le Segretain/Bryan Bedder/Getty Images Entertainment/Getty Images
Gigi Hadid and Zayn Malik have officially confirmed their breakup, so if you see many people staring into what seems like an endless black void, that's probably why. Zigi was the definition of true love, and now that their relationship is no more, pretty much everything in life is a lie. So, that's how my day is going, how's yours? But in all seriousness, when life gets me down like this, I know I can always count on one person to make things a little bit better: My mom, obviously. And apparently, Gigi's mom might be here to help her daughter's heartbreak, too. Fans think that Yolanda Hadid's recent Instagram post is about Gigi Hadid and Zayn Malik's breakup, because really, what else is a mom put on this earth to do other than to give sound advice in the form of a social media post to her child? (The answer: Everything. Moms do everything.)
So let's talk about this post from Yolanda, Gigi's mom. It's not confirmed that it's about Gigi and Zayn's breakup, but fans are putting two and two together and think that it's definitely aimed at her daughter and her split with Zayn. On March 14, Yolanda wrote,
The only way that we can live, is if we grow. The only way that we can grow is if we change. The only way that we can change is if we learn. The only way we learn is if we are exposed. And the only way that we can become exposed is if we throw ourselves out into the open.
Profound AF.
For her caption, she wrote, "❤️And so it is....... #Life," and I'm sorry, but is there any way that this is NOT about Gigi and Zayn? Many fans think this is undoubtedly Yolanda's advice for her newly single daughter, and commented on her post to prove it.
User biancakennedy01 wrote, "Talking about zayn and gigi. 😢😢," while user valerri16lov wrote, "They were perfect together so sad but so it is we love them both 😢❤️😘," and yes, friends, we are going to miss this couple.
Never know what you've got until it's gone, I guess.
Many users also commented about their devastation by using Gigi and Zayn's ship name, Zigi. One user, akbarginanjar17 wrote, "I will never ever forget zigi;(," while user medutele3 wrote, "Bring ZiGi back 😭💔😿."
Breaking my damn heart, you guys.
Yolanda wasn't the only one to share a cryptic post in the wake of Gigi and Zayn's breakup, though. Zayn posted a selfie to Instagram with a very, erm, suspicious caption, that many people thought was aimed towards Gigi. He wrote, "When Life throws you lemons , catch em so they don't hit you in the f*cking face."
Ouch. Zayne, you OK?
This post was pretty much right before we found out the news that it was ~officially~ over, and it certainly seemed to fans that the writing was on the wall.
That same day, both Zayn and Gigi posted to their respective Twitter accounts to confirm the sad news. Zayn wrote,
Gigi and I had an incredibly meaningful, loving and fun relationship and I have a huge amount of respect and adoration for Gigi as a woman and a friend. She has such an incredible soul. I'm grateful to all of our fans for respecting this difficult decision and our privacy at this time, we wish this news could have come from us first. We love you all. xZ
Guts are officially wrenched.
Gigi posted a heartfelt and emotional statement as well, writing,
Breakup statements often seem impersonal because there is really no way to put into words what two people experience together over a few years .. not only in the relationship, but in life in general. I'm forever grateful for the love, time, and life lessons that Z and I shared. I want nothing but the best for him and will continue to support him as a friend that I have immense respect and love for. As for the future, whatever's meant to be will always be. xG
Whyyy, you guys? WHY?
I guess we should all just follow Yolanda's advice and just grow from this breakup.
Or you can just drink wine on the couch and sob for hours on end like I'm doing. Totally your call.