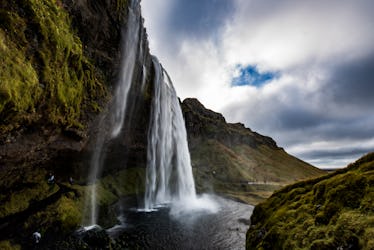 You Can Travel To Iceland For $99 In 2018, So Get Ready To Book A Trip
Alexander Scheuber/Getty Images News/Getty Images
If your wanderlust is calling but your wallet is pulling in the reins, you'll be pleased to know that the new year offers some budget-friendly travel options. Get your passport ready — WOW Air's $99 tickets to Iceland are a must-buy. Now is definitely the time to cross a few places off your checklist.
WOW terminals in major cities throughout the United States are offering flights into Reykjavik, Iceland's capital, in 2018 for this comfortable rate, according to Travel & Leisure. There is also some wiggle room, as locations such as Boston, Los Angeles, and Chicago, among others, will offer the $99 deal into May 2018, so you don't have to feel pressured to book immediately. If an autumn escape is your jam, one-way flights from New York, Cleveland, and Cincinnati are $99 throughout September and October, but for select dates. Get out your calendar and box off a few available options for your European getaway.
WOW Air might be an Icelandic air carrier, but the deals don't end with Reykjavik. There are also $149.99 one-way tickets to hot spots such as Amsterdam, Barcelona, London, Paris, and so on. Is your heart racing yet? I don't know about you, but I am absolutely loving these price tags.
Although this news is certainly worth celebrating, there are a few things to know before booking. First thing's first, one-way tickets back home to the United States are often a bit more expensive than the departing flights. These fares begin around $150, according to Travel & Leisure, so budget your trip accordingly. It's also worth noting that WOW Air is a budget airline, so you'll expected to pay for amenities such as seat assignments and refreshments. It might raise the cost of your travel options, but all in all, this is still a fairly comfortable deal for most travelers.
It seems 2018 is looking up already, at least in terms of travel and adventure. There are plenty of ways to save, and you'll finally be able to head where you've been dying to go. CheapAir.com has uncovered national and international destinations that are within reach for millennials who are looking to explore but need to be responsible with their budgets. Scheduling a flight and making hotel arrangements can definitely feel daunting, so eyeball this list, think about the places you must see, and start planning your getaway. CheapAir.com's list includes:
Montenegro, Croatia
Spain
San Francisco, California
Thailand
Las Vegas, Nevada
India
Namibia, Africa
Washington D.C.
New Zealand
Nicaragua
Based on airfare from major airports, excursion costs, budgets accommodations, and "overall destination caché," the website was able to determine the top 10 locations that promise a good time without the hefty cost. Still looking for ways to save? We have your answers. Jeff Klee, the CEO of CheapAir.com tells Elite Daily,
Flying mid-week and in the off-season will offer best value for money overall. To keep costs down, the best advice is always to avoid high season, wherever you travel. For example, shoulder season in Europe (March to April and September to October) will often give you deep discounts on flights and accommodation, and can be a better time to have a relaxing vacation. You should also keep in mind local festivals and holidays that might impact overall cost, limits on business hours, and numbers of tourists you can expect to encounter.
There are certainly other ways to make sure you have a little extra spending cash at the end of the day. Determine which airlines have free checked bags, look up a variety of ways to get to the airport and budget from there, and compare prices. You might have a lot of homework, but in the end, it'll all be well worth it.
Check out the entire Gen Why series and other videos on Facebook and the Bustle app across Apple TV, Roku, and Amazon Fire TV.