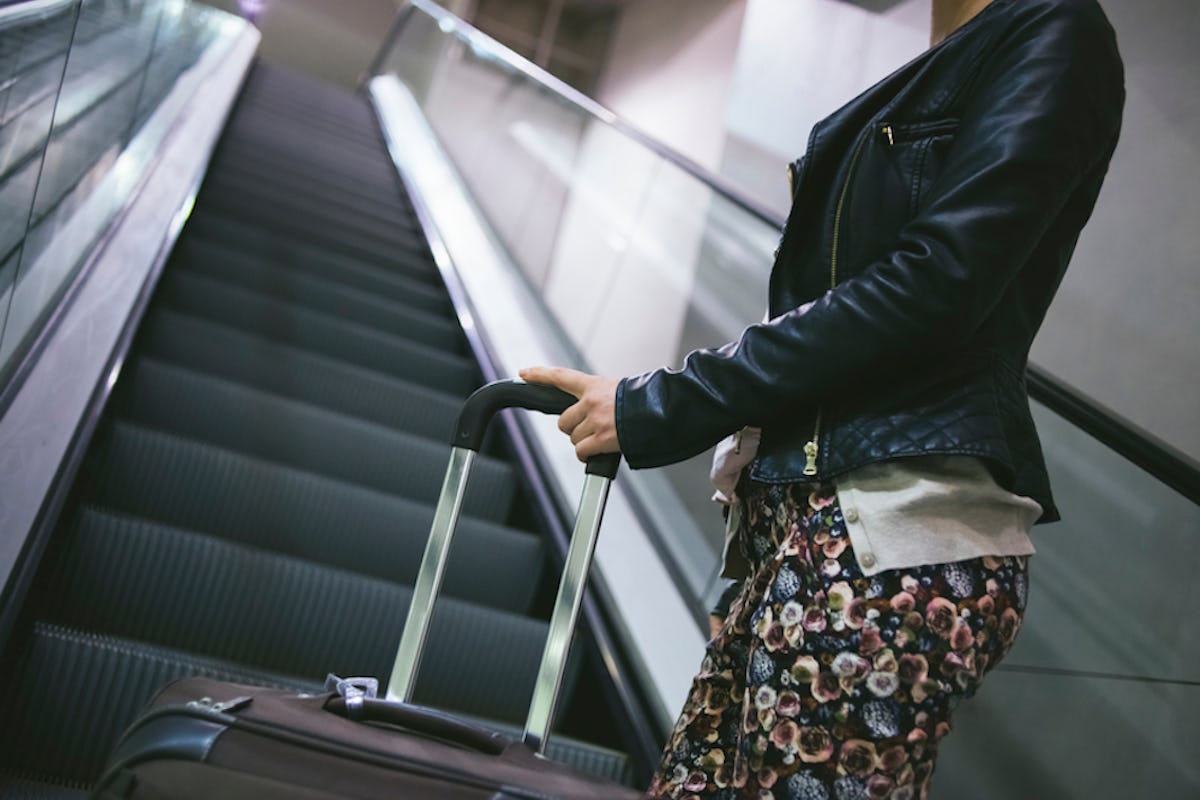 Which Airlines Have Free Checked Bags? Here's What To Know Before You Book
It's nice to go home for the holidays, but getting there isn't exactly peaches and cream. Airports are crowded, flights get overbooked, and traipsing through the terminal with your belongings and Christmas presents is no easy task. You might want to research which airlines have free checked bags because it'll make your trip a little less complicated.
If you're looking to cut costs somewhere while traveling, start with the luggage situation. You might have to rush on the plane to get the seat you want when you book with Southwest Airlines, however, the carrier makes up for it. A checked bag fee isn't required for the first two suitcases you bring on your domestic flight. Think of it like this: one bag for yourself, one bag for your gifts, and you're good to go. However, if you somehow had an extra arm to wheel a third suitcase into the airport, that will cost you $75 when traveling with Southwest.
This isn't the only airline with a similar perk. Cape Air also offers a free checked bag on domestic flights. However, you're going to have to make sure you get all that you need in that first bag. The second and third piece of checked luggage will cost $40 respectively. Looks like it might be more beneficial to stick with gift cards if you're flying with Cape Air — those extra pieces will cost you.
If you cannot manage to score a deal with Southwest or Cape Air, don't sweat it. There are other carriers — while not free — offer doable deals for those traveling with a lot in tow. For domestic flights, JetBlue asks for $25 for the first checked bag and $35 for the second, all totally possible. The third however, is where costs can rise, as it is priced at $100, so be careful when you start packing. Those Blue Plus and Blue Flex members can enjoy the first checked bag for free. Huzzah!
Virgin America is another line that keeps wallets happy. When flying domestically, all three of passengers' suitcases cost $25 respectively. So, for those who are incredibly skilled and aren't afraid of adding a third piece of luggage into the mix, Virgin America isn't such a terrible way to go. Depending on seating arrangements and the type of ticket you purchase, you might be entitled to one free checked bag (like if you're willing to shell out the big bucks for first class).
As much as you'd like to think that you can head home sans checked bag this holiday season, let's be realistic: That's probably not going to happen. So, the best piece of advice would be to embrace the suitcase... and learn how to make traveling with them easier. Yes, it is possible, even when at the baggage claim.
First thing's first, travelers should ask an airline rep if they could have a "fragile" sticker placed on their luggage. Not only does this ensure a little TLC, but it also means that the bags are loaded on the plane after everyone else's, so in turn, they'll be the first on the conveyor belt when the plane lands in its destination. Prepare to make a quick getaway.
You can also make it mom and dad's a little bit sooner with a few other travel-friendly tips. Gate-checking allows you to have their luggage held on a particular area of the plane, and your belongings are typically returned as the passengers deplane. That sounds like a pretty exclusive deal to me. Still not sure how to pull this off? A business-class ticket also allows for priority baggage handling, so that's definitely something to consider before making arrangements.
Now that you've done your traveling homework, sit back and enjoy the flight. Happy holidays.
Check out the entire Gen Why series and other videos on Facebook and the Bustle app across Apple TV, Roku, and Amazon Fire TV.