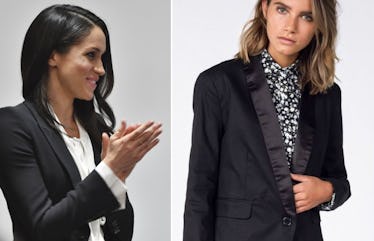 If You Hate Getting Dressed For Work, These Cool, Comfy AF Suits Will Save You
Getty/Wildfang
Girlbosses, rejoice! There's a new line of business-inspired co-ords on the market that's not only genuinely cool, but caters to literally every HBIC. Women's suits from Wildfang are here, and they're setting a new bar when it comes to menswear-inspired clothing for women. Take any notions you have about stuffy pantsuit of days past, and throw them out the window (look no further than this chic number worn by royal protocol-breaking Meghan Markle). Thanks to unexpected prints and modern iterations of classic silhouettes, the new suits give a totally fresh twist to power dressing.
Launched in 2010, Wildfang seeks to provide menswear-inspired pieces including blazers, button-ups, and more to women who don't want to be constrained by the BS rules of gender-specific dressing. The idea for the brand came about when Julia Parsely and Emma McIlroy, who worked together at Nike at the time, were walking through Urban Outfitters and noticed that so many of the styles they loved in the men's section didn't have a similar equivalent in the women's section.
"At that time, the trend for womenswear was really boho and flowy," explains Wildfang's creative director, Taralyn Thuot.
"Emma and Julia were like, 'Why aren't these menswear styles available to us?' It kind of clicked in their heads that no one was making pieces that have traditionally been off limits for women available. They wanted to open up that whole side of fashion."
After doing extensive consumer research and interviewing other women who were looking for similar pieces, Parsely and McIlroy launched Wildfang, starting with the most classic menswear piece of all: the button-up shirt. "It's hard to find a menswear-inspired button-up that really fits a women's frame and doesn't have lots of darts or extra detailing," explains Thuot, who has been with the company since day one. "That was really the first piece we started to tackle when it came to the Wildfang brand products."
Next up was suiting. They realized that their customer was looking for a suit meant to fit a women's frame but that still read menswear aesthetically. ("Not the J. Crew suit," as Thuot puts it.) "Our background isn't in producing products, so before taking on something as robust as suiting on our own, we wanted to start it off by working with another brand," she says. That was two years ago, and since launching their collaborative line they've seen the demand for their suits steadily grow. "We talked a lot about what it feels like when you put on a suit and how it unleashes your inner confidence, and we decided the silhouette was something we wanted our brand to really own."
So, about a year ago, they started to talk about a line of suits completely designed and executed by Wildfang that would not only be classically menswear-inspired in appearance, but that would be their most size-inclusive range of offerings yet. Working on suits with another brand had previously prevented them from offering anything above a size extra large (16), which they knew was leaving out a huge portion of consumers. As Bloomberg reported in 2012, an estimated 67 percent of American women are a size 14 or larger.
On Feb. 8, the line of suits launched, and it is everything any blazer lover could hope for. Their jackets are offered in sizes extra small to double extra large, while their pants are offered in sizes 2-20. What's more, the prints are unlike anything I've ever seen on a suit before. There's a playful powder blue plaid, a gorgeous black and white marble, and a whimsical ditsy floral.
"From a fabric perspective, one thing that was really important to us was having a little bit of stretch," says Thuot. "Having a little stretch goes a long way, especially when you're dealing with tailored items. So three of our four fabrics we launched are stretch." The marble and floral patterns are exclusive to Wildfang, and they're guaranteed to turn heads when worn in the office, on the streets, and beyond.
Which is another great thing about the new collection — their classic silhouettes make them insanely versatile and render each piece mix and matchable with things you already have in your closet. "Our suiting really does offer the opportunity to wear a head-to-toe suit or to wear pieces as their own items, as separates," says Thuot.
When it comes to pants, the collection offers two styles. One is cropped, one is a long, but they're both slim, tailored, and mid-rise. "We wanted to offer two lengths partly for preference but also partly for body diversity. Our consumer ranges from five feet to six feet, so trying to fit that range of body types is really important to us."
The blazers are where things really get turned up a notch in terms of sartorial finesse. They come in three silhouettes that are slightly altered versions of menswear classics. "Obviously, we had to approach them with a women's frame in mind so we did little things like pull in the shoulders a bit," says Thuot. "But from a silhouette perspective, they're very classic."
There's the Tux Blazer, which is a traditional dressy style featuring a shawl lapel and slightly cropped silhouette; the Casual Blazer, which has elbow patches and looks like something you'd pull out of your grandpa's closet; and the Long Blazer, which, as its name suggests, has a lengthened hemline and channels Saint Laurent's version. Wildfang also produced a few button-ups in coordinating prints, meaning customers can truly get a head-to-toe look from the collection.
"Beyond the fashion landscape, when you look at things like representation of women in congress or the number of female CEOs in the boardrooms, it's like why are these places off limits to women? I think we feel the same way about clothing. Blazers, suits, they shouldn't be off-limits to women," says Thuot.
I couldn't agree more. Thanks to Hillary Clinton, 2017 became the year of the pantsuit and of women coming together in larger numbers than ever before to demand equality, respect, and acknowledgement. Badass suits for badass babes? Count me in.