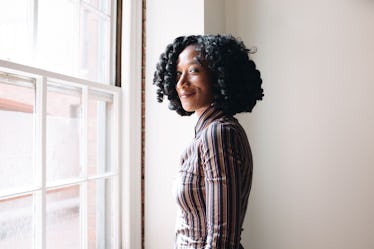 These Women Are Working Behind The Scenes To Help Women Get Elected — EXCLUSIVE
NationBuilder
The year is still young, but already, American women are breaking records. Since the 2016 election, female candidates have been signing up to run for elected office at unprecedented levels. And it appears that this trend isn't limited to the names on the ballot. In fact, women are running campaigns to get women elected in 2018. I spoke with experts about this trend of women behind the scenes of political campaigns in interviews for Elite Daily to find out what women's roles were not just as candidates, but at all levels of campaigning. While the number of women running for office in 2018 has been shattering records, women are participating in the political process not just as active candidates, but in supportive roles, too, and it goes without saying that their involvement has been fundamental.
Run For Office (RFO), a searchable database that provides information on elected offices around the nation and how to run for them, is a case in point. Four out of five members of the tech team are women, including Gina Davis, pictured in the image above.
"The underrepresentation of women, and women in technical fields, runs the gamut, so it doesn't stop when it gets to political tech — it's the same or worse," Emily Schwartz, the Vice President of Organizing at NationBuilder and one of brains behind the RFO platform, says. "That's what makes this interesting. There's been this female contingent that has been really taken on building out this database."
Still, when it comes to campaign work in general, women don't appear to be front and center. "Women have largely been in the secondary and tertiary roles," Schwartz says. "We need more women who want to step up and become campaign managers."
And Schwartz has a point. There were only three women working as campaign managers on 2016 presidential campaigns, including in the many primary campaigns: Sarah Huckabee Sanders, Beth Hansen, and Kellyanne Conway, who served on Mike Huckabee, John Kasich, and Donald Trump's campaigns, respectively. The disparity seems to carry through the top campaign staffs for most of the presidential candidates that year. For example, only 16 percent of Trump's top campaign staff listed were women and only 35 percent of Hillary Clinton's were, per Ballotpedia. (The 16-percent figure is generous; that's if you include Sanders, who joined Trump's team after Mike Huckabee's campaign ended.) Based on a sample of six of the primary candidates' campaign staffs, women comprised only about 23 percent of top roles.
Sofia Pereira, the community manager for political advocacy group She Should Run, saw that disparity first-hand. "I've worked on campaigns from the local to the congressional level," she says in an interview with Elite Daily. "I definitely recognize that there has been underrepresentation of women in campaign work."
The data on exactly how many women are working on campaigns, and at what level, is hard to come by, if not impossible. In doing research for her book about gender in political campaigns, Center for American Women and Politics scholar Kelly Dittmar ended up having to run numbers herself because the information just wasn't there. "Tellingly, my sample of women consultants was so small that I could not include an entire chapter on it," she tells me in an interview. "Over three quarters — 78 percent — of the strategic consultants that I identified were men."
Positively, Dittmar says, that's changing, but while the trend appears to be changing, it won't happen overnight. "Campaigns, like government itself, are gendered institutions," Dittmar says. "Women have been excluded for so long that it takes time for women to gain the same levels of power and respect and credibility within these institutions."
But women seem to be making gains at a record-setting pace, in both the center and backstage of politics.
Pereira helps oversee She Should Run's online incubator, launched prior to the 2016 election, which serves as both bootcamp and support system for women running for office. "The goal was to have about 300 to 400 women in this community," says Pereira. "Post-election, within the first week, 2,200 women joined. By the end of the year, it's 5,500. Now, we have over 16,000 women in our program."
The incubator program, by connecting women at all stages of the political process, gives women a space to offer first-hand mentorship, advice, support, and encouragement in a field often dominated by men.
Schwartz, pictured immediately above, says that while there are over 513,000 public elected offices in the U.S. and most Americans are eligible to run for over 20 positions in elected office, more than 40 percent of state legislative offices aren't challenged come ballot season. But after the 2016 presidential election, interest in learning about open offices has been skyrocketing. It was this post-election monsoon of women signing up to run that prompted RFO to ramp up its efforts.
"We've taken this on and seen this as a way that we can contribute to that empowerment of women becoming a greater political force in this nation," Schwartz says.
The fact that more women are running for office in 2018 may in itself be a promising indication that more women are starting to take up the mantle of campaign work. Dittmar sees it as a two-way street between women candidates and their staffs, where female candidates might be more likely than males to push for women to join their campaigns.
And on the flip-side, the beauty of staffing campaigns with women is that it might contribute to women staffers becoming future candidates, Pereira says. Working on a campaign can demystify the process, so it's an easy gateway for women to take that next step to deciding to run.
While women running for office in general is progress, it's worth highlighting the importance of diversity among them, including women of color, LGBTQ+ women, and women with disabilities. Women of color are stepping into these roles at impressive rates; per Black Women in Politics, 497 black women alone were registered candidates for 2018, as of this writing.
So while 2018 is already shaping up to be a record year for women in politics, there's reason to believe this trend will only continue, and at all levels of involvement. Just as we should be paying attention to who's sitting in the legislative chamber, Dittmar says, we should be asking who's sitting at the strategy table in those campaigns.
"In this moment where gender feels particularly salient," she adds, "and we're talking about issues that especially effect women in terms of public policy, I hope that all candidates, men and women alike, see the value of bringing women's perspectives to that strategic, decision-making table."
Editor's note: This article has been updated to reflect that there were three women who served as campaign managers in 2016, not two.