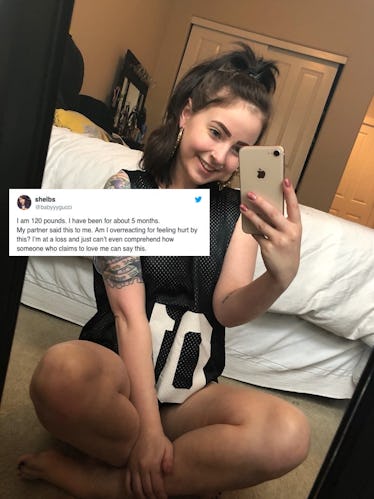 This Woman Dumped Her BF After His Body-Shaming Texts About Her "Beer Gut" Went Viral
@babyyygucci on Twitter
I'm all for honesty in a romantic relationship, but there's a big difference between letting your girlfriend know that she has spinach in her teeth and body-shaming her perfectly healthy physique. A woman dumped her boyfriend and is now making headlines after she shared her experience on Twitter. Her then-boyfriend sent her a series of text messages about her physical appearance, stating that she's "definitely getting a beer gut" and that "if it keeps going," he may not find her as attractive. Bewildered by his insensitive behavior, 23-year-old Shelby shared screenshots of his text messages along with photos she took of herself on Twitter.
"I am 120 pounds," Shelby wrote. "I have been for about 5 months. My partner said this to me. Am I overreacting for feeling hurt by this? I'm at a loss and just can't even comprehend how someone who claims to love me can say this."
Her story quickly went viral, with thousands of retweets, favorites, and comments from Twitter users. Many people shared words of support and incredulity at her boyfriend's comments, agreeing that his behavior warranted ending the relationship. In the text messages, he claimed she no longer looked like her Instagram photos, and said that "her gut might stick out more than mine," which is "just weird." (It's not.)
In further tweets, Shelby explained that she has only recently come to a healthy weight. After years of struggling with being underweight, she said that she has never felt happier or healthier. "I was once 80 pounds, in the hospital having tons of tests run. Now I'm 120 pounds and immensely healthy. Whether you're super skinny or overweight, your feelings about yourself are valid. Listen to your gut and don't ever let someone tell you how you should or shouldn't look," Shelby tells Elite Daily.
Another one of her tweets reads, "I worked hard for this body. I am 120 pounds of pure growth." As anyone who looks at the photos can see, Shelby looks strong, beautiful, and healthy.
I, for one, am so glad she didn't let her boyfriend's tone-deaf comments get to her. In fact, Shelby has since broken up with him and is currently "single and free." The mature way she reacted to the situation and handled her breakup is honestly so admirable. Personally, I would have gone off on him. But once Shelby realized she didn't need or want him in her life, she simply came up with "a plan to end things and move on."
"I'm just really happy I can use my story to turn this into something positive and open the conversation of body positivity. So many women struggle with their weight and not feeling like they are enough," Shelby tells Elite Daily. "For me, this isn't even about my ex anymore. It's about how reaching your goals is possible."
Unfortunately, body-shaming boyfriends are nothing new. Whether the pressure to look "perfect" comes directly from your partner or also from yourself, the fear of weighing more than a boyfriend can cause women to behave in unhealthy ways.
If you need your faith in humanity restored after reading this guy's gross texts, I've got you covered. Take a look at the outpouring of supportive responses to Shelby's journey, which came from total strangers on Twitter.
While no breakup is easy, Shelby isn't letting her ex or his opinion stop her from living her best life. And if you ask me, her smile looks even brighter now that she's dropped those extra 180 pounds that were weighing her down (her ex).
Shelby may have gained thousands of followers in a few short days, but she's still a relatable, millennial woman. She recently tweeted: "I might be internet famous but that doesn't change the fact that I haven't washed my dishes in like 5 days." Same girl, same.