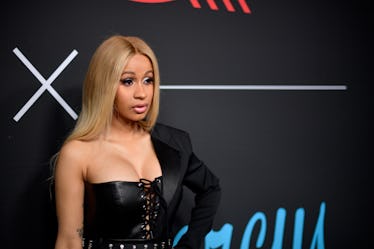 All Your Swiping On Tinder Could Win Your School A Free Cardi B Concert
Matt Winkelmeyer/Getty Images Entertainment/Getty Images
While you may be more frugal with your right swipes on Tinder, only seeking those you're physically attracted to, that may change in the upcoming weeks. Students: You'll definitely want to use all the right swipes you can. And hey, even if you're not swiping right for love or hookups, maybe you'll want to swipe right for a night of free music. March Madness isn't just about your basketball bracket this season — Tinder is making a different kind of bracket for your college, by giving the school with the most swipes in its "Swipe Off" competition a completely free Cardi B concert at the end of the semester. What better way to culminate the school year than celebrating with Cardi B herself?
The game is simple: Swipe right on as many people as possible, starting March 27, to have your university move on in the competition. By swiping around your campus, Tinder will know which school you're representing. The competition works just like the NCAA Basketball March Madness tournament does, with teams pairing off until there's just one champion left. Here's the competition schedule:
Round 1, March 30–April 2: The highest-swiping 64 schools are eligible to compete in this first round. Schools will be announced via Tinder's Instagram account.
Round 2, April 2–5: The tournament narrows to 32 schools with a shot at a free Cardi B concert.
Round 3, April 5–9: Welcome to the semi-finals. This is getting serious! Sixteen schools compete.
Finals, April 9–13: The tournament is cut in half to a mere eight schools.
Championship, April 13–18: The final two schools compete against each other. On the last day, the winning university is announced and the tournament is complete!
Tinder HQ says, "Schools with the most right swipes will be blessed with Cardi B's ferocious flow (and probably another iconic dress)." Maybe if you win, she'll grace your presence with a showstopping dress like this one below.
Pro tip: Get a month subscription to Tinder premium to get access to more right swipes (you're limited to a certain amount on the free version). You can upgrade for $14.99 for one month, which will give you more chances to win a Cardi B concert for your school. Do it for your university, do it for your country, and most importantly, do it for Cardi B.
This competition is even more of a big deal to schools in cities where Cardi B may not have travelled to while performing with Bruno Mars for his 24K Magic World tour. And, if you're not super into basketball, this is a March Madness bracket you can easily get into – and you may have even a better chance at winning this than winning a completely correct March Madness bracket. (UMBC destroyed us all, and we never saw it coming.)
So, which school will be the new UMBC? Which schools are considered top seeds in a battle of Tinder love for Cardi B? Will the top team be a New York university, repping Cardi B's home roots? Or will it be an underdog no sees coming from a smaller town? You better get to swiping, because I think this competition is going to be a tough one.
The Swipe Off begins on March 27. So go ahead, swipe right until your fingers can't do it anymore, and may the odds be ever in your favor.
Check out the entire Gen Why series and other videos on Facebook and the Bustle app across Apple TV, Roku, and Amazon Fire TV.
Check out the "Best of Elite Daily" stream in the Bustle App for more stories just like this!
This article was originally published on