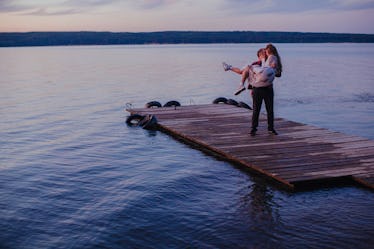 5 Signs Your Partner Will Be A Good Spouse, According To Experts
Maybe you've been dating for a couple months, or a couple years. Either way, you've got the future on your brain, and more specifically, whether or not bae is in it. Will your partner be a good spouse? Your gut instinct says yes, but how can you be sure? Of course, there's the little things that suggest they have real long-term partner potential — like the fact that they always remember small details of the work stories you tell them, or bring you your favorite mint tea when you catch a cold, and tag along to your niece's four-hour dance recital because they know it's important to you. Some say you should look at how your date treats the servers at a restaurant as revealing of their character. Others say it's your SO's relationships with family members that can tell you a lot about whether they'll be an exceptional spouse.
No one can predict the future, and just because you're in love with someone doesn't mean they're fit to be by your side for the rest of your life. Luckily, experts say there are some subtle signs to look out for that could hypothetically indicate if your SO is going to be a stellar forever partner. Here are some behaviors to keep an eye out for if you're trying to discern whether your current bae has some serious spouse potential.