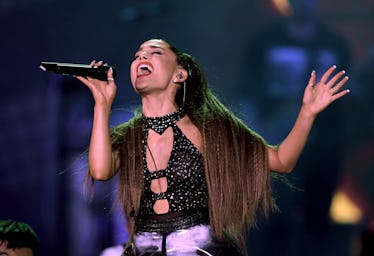 Here's What We Know About Ariana Grande's Mysterious New Album
Kevin Winter/Getty Images Entertainment/Getty Images
Pop star genius Ariana Grande has been doing the damn thing recently (but let's be honest, she's been doing it for way longer than that), and her latest single, "thank u, next" is proof of that. It's basically an international hit, rising to the top of the Billboard 100 in, like, minutes flat. How does she do it? Nobody knows, but it's impressive AF. Now that Grande is back to releasing new music as fast as us normal humans breathe air, many fans are wondering: will there be a 'Thank U, Next' album? It looks like she might have already confirmed that something is in the works, so get ready, people.
OK, so do you remember when, back in late October, Grande took to Twitter to chat with her fans about music, Piggy Smallz, and just life in general? It was shortly after her broken engagement with Pete Davidson and also after the world found out about the death of rapper Mac Miller, who was Grande's ex-boyfriend. She was super open and honest about how she was feeling about everything, but emphasized the fact that there was going to be some new music in the works. After her release of Sweetener in August, many fans were wondering if there was going to be another album, and in one of her tweets, she said that she was pretty amped for her "next one" as well:
When one fan asked if she was anticipating dropping something before 2019, Grande responded in a way that almost gave us more questions than answers:
Damnit, Ari. Why are you doin' us like this?
Then, when one fan was sad to think that the Sweetener era would be over once her new album came out, Grande responded that she didn't want to "conform" to any type of "formula" for her music, but she also added that she didn't want to wait too long to drop her next album. In regards to the end of the Sweetener era and the rise of a new album, she wrote,
it ain't ova ! i don't really like "era's". i jus wanna make music and drop it whenever and perform it. i don't want to conform to the like ... 'routine' or like 'formula' anymore. i love music i ain't waiting another 2 years to drop it. i want to share it w u when it's freshhh
So, like, basically Ariana Grande is here to tell us that a fifth album is clearly on the way to our speakers, and that it's probably already completed at this point, and Grande is just waiting for the right time to drop it.
If the devil works hard and Kris Jenner works harder, then Ariana Grande blows both out of the water for real.
Of course, all of this speculation came about after Ariana Grande's "Breathin'" music video seemingly teased new songs. After dropping the "Breathin'" music video on Wednesday, Nov. 7, many fans took to Twitter to show that there might be a hidden message within the video footage.
In the "Breathin'" music video, there's a clip that shows a list of departures from the train station where Grande is in, and within the list are scrambled letters and words:
This theory actually sounds pretty legit, meaning Grande might have not only subtly let us know that AG5 is on the way, but also what song names we should be expecting, too.
And so the waiting on her newest album begins. I'll just be here, fervently scanning the internet for more clues.