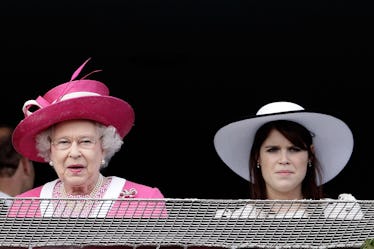 Here Are The Chances That The Queen Will Be At Princess Eugenie's Wedding
Matthew Lloyd/Getty Images News/Getty Images
Princess Eugenie is set to marry her BF of seven years, Jack Brooksbank, on Oct. 12, 2018, and I'm just so glad we have another royal wedding to obsess over because I was going through some serious withdrawal. The pair — who got engaged back in January 2018 — will tie the knot at St George's Chapel on the grounds at Windsor Castle, just like Prince Harry did when he married the Duchess of Sussex, Meghan Markle, last spring. But will the Queen attend Princess Eugenie's wedding? After all, Princess Eugenie is her granddaughter.
In case y'all forgot (and I know I did), Princess Eugenie is the daughter of the Duke and Duchess of York, aka Prince Andrew and his ex-wife, Sarah Ferguson. And since Prince Andrew is the third child of Queen Elizabeth II and Prince Philip, that makes Princess Eugenie one of the queen's eight grandchildren, and ninth in line for the throne.
Anyway, according to The Express, the wedding will take place at 11 a.m. on Friday, Oct. 12, followed by a small carriage procession into the town of Windsor. After the procession, the queen will reportedly host a reception at Windsor Castle. So yeah, it looks like she'll be in attendance for the big day. And not only that, but bookmakers Ladbrokes predict she'll be wearing blue.
Meanwhile, according to The Express, more than 850 guests have been invited inside the castle, with another 1,200 members of the public expected to attend in a designated area on the grounds, where they will be able to watch all the guests arrive.
Speaking of which, here's Princess Eugenie (far left) arriving at Prince Harry and Meghan Markle's wedding in her own blue dress and matching pillbox hat last May:
Just as there was with Meghan, there's already been a ton of speculation about what Princess Eugenie's wedding dress will look like, and who's been tapped with the honor of designing it. But the Princess is not spilling any deets.
"I'm not telling anyone who is making it, but I can say it is a British-based designer," she told British Vogue. "[The dress] is the one thing that I was really decisive about. As soon as we announced the wedding, I knew the designer, and the look, straight away. I never thought I'd be the one who knew exactly what I like, but I've been pretty on top of it."
Ladbrokes places the odds of Eugenie wearing an Erdem gown at 3/1. It's not a bad bet, considering the princess is a longtime fan of the designer, and even wore a silk organza Erdem dress on the day she announced her engagement.
I mean, that's cool and all. But not gonna lie, I'm way more excited to see what Princess Eugenie will wear on her head.
Will it be a bow:
A bonnet:
A headband:
Or a sky-high chapeau like the one she rocked to Prince William and Kate Middleton's wedding:
I know, I know. It's tradition for a royal bride to choose a tiara from her family's collection. And The Daily Mail is reporting that Princess Eugenie will prob go with the York diamond tiara that her mother wore on her 1986 wedding day.
Look, I'm totally down with tradition. So go ahead and rock your mama's tiara, Princess Eugenie. Just promise to do it with this look on your face, OK?