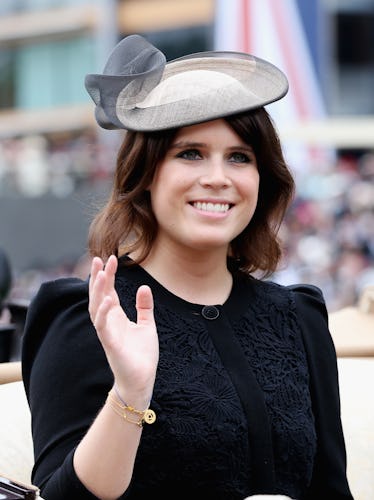 Here's How Princess Eugenie's Royal Title Will Change After She Marries Jack Brooksbank
Chris Jackson/Getty Images Entertainment/Getty Images
Princess Eugenie will be getting married to her longtime beau Jack Brooksbank on Oct. 12. And that's got people wondering whether Eugenie will still be a princess after tying the knot. So, what will Princess Eugenie's royal title be after marriage? Well, it's a little bit complicated.
According to a July 21 report from The Daily Mail, Eugenie's husband-to-be will not receive a royal title. So, that means that Eugenie may officially be called HRH Princess Eugenie, Mrs. Jack Brooksbank. And Woman & Home reports that Eugenie may drop her official title if she chooses. A source for The Daily Mail said that even Eugenie is not terribly concerned with titles as long as she can marry the man she loves.
"Eugenie couldn't care less about titles and is perfectly happy to be Mrs. Brooksbank," the source told The Daily Mail.
While many have speculated that Brooksbank would be given the vacant title of Earl of Northallerton, Eugenie's father, the Duke of York, reportedly decided that his future son-in-law would remain a commoner. In title, anyway.
But all that title business is clearly having little impact on the wedding plans moving forward. Princess Eugenie seems perfectly happy to have a life without a fancy title and the wedding is shaping up to be incredible.
Princess Eugenie and Jack Brooksbank will be exchanging vows at St. George's Chapel at Windsor Castle, so they'll be following in the footsteps of Prince Harry and Meghan Markle. Not only that, but Eugenie and Brooksbank also invited 1,200 members of the public to attend the ceremony.
Despite the excitement surrounding the upcoming wedding, not everyone's happy about the massiveness of it. According to SkyNews, there are those who are bitter that Eugenie is seemingly receiving the standard royal treatment.
In an interview with SkyNews, Labour MP Chris Williamson spoke at length about all the reasons he's unhappy with how much Eugenie's weddings will apparently cost tax parents.
"Prince Andrew - who is fabulously wealthy with an estimated worth of £65m - should foot the bill himself," Williamson said.
Apparently, taxpayer money will go to police officers who are putting in overtime for Eugenie's open carriage procession. The total amount is estimated to be 2 million pounds. And that, according to Williamson, is "unacceptable."
"Who's heard of Princess Eugenie anyway?" he reportedly said. "She carries no royal functions, no useful purpose to the public sphere and yet we're having to spend this kind of money."
Williamson isn't the only person who is unhappy with the way the royal family is handling this issue. Some 31,00 people signed a petition requesting that the royal family foot the bill for Eugenie's wedding.
Their petition reads, "We petition the House of Commons to urge the Government to commit no public money to the wedding of Princess Eugenie and Jack Brooksbank, and to publish a report of all costs to taxpayers."
So, there's a lot of controversy surrounding this wedding, which is a bit sad for Eugenie. I'm sure she won't let it get her down, though. Whatever people think of Eugenie's wedding and how much it'll cost, she seems to be happy with how everything is turning out.