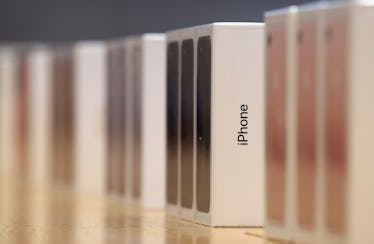 Here's What We Know About Using AirPods With The New iPhones
Sean Gallup/Getty Images News/Getty Images
Don't get me wrong — I'm always down to hear about any and all updates on each of the latest iPhone models. But one thing I literally dread is hearing about how the headphone jack has — once again — totally changed. Over the years, the iPhone's headphone jack has been drastically altered several times, causing users to constantly have to buy new headphones. It's inconvenient AF, and since you may have bought wireless headphones for your last device, you're probably wondering if the iPhone XR will work with AirPods. So, brace yourselves, folks, because the news is yes. Apple didn't announce any major changes to the headphone jack, and seeing as how the AirPods use Bluetooth to connect, it's safe to assume you'll be able to connect them with the new XR.
I get it — it's super annoying to buy new headphones for every single iPhone model that comes around. Sometimes, good headphones can be kind of pricey, and it's annoying to have to drop money on new ones, after you've already dropped cash on the latest Apple device. However, you'll probably be happy to know that if you bought AirPods for your last model, you should be able to use them with the iPhone XR. I'm literally jumping for joy right now. So, there you have it.
When the iPhone X debuted way back in 2017, there was a pretty good chance that you ended up buying yourself a pair of AirPods, if you didn't like the EarPods the phone came with, that is. Many Apple users were pretty disappointed to find out that the X didn't, in fact, come with AirPods. Instead, it came with a pair of EarPods, which had a lightening connector, since the headphone jack disappeared. It also came with a lightening to 3.5 mm headphone jack adapter, so you were able to use any 3.5 mm headphones as well.
If you do happen to be on the market for new headphones, however, you can get free Beats from the Apple Store right now, through Sept. 25. If you're a current or newly-accepted college student, a parent of a student, faculty, staff, or a homeschool teacher, and you happen to buy a new MacBook or iPad, you can choose between a free set of Powerbeats3 Wireless earphones or BeatsX earphones. To get in on the deal, you'll receive a "Promotion Savings" for the cost of the headphones with your qualifying purchase, and you'll need to provide a valid student or teacher's ID. Then, you'll be ready to rock (literally).
New iPhone releases are hella exciting, but finding out that your last pair of headphones are compatible with the latest model can be a real relief. Maybe you can take advantage of this, though, and snag some new Beats from the Apple Store anyway (if you're a new or current student, that is). Regardless, get excited for the iPhone XR, because it's about to literally change the game for Apple lovers everywhere.