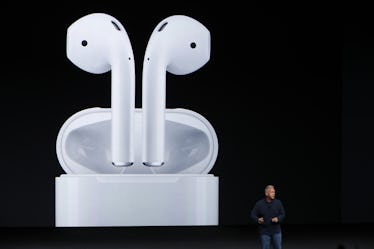 Apple AirPods Are Reportedly Getting An Upgrade & This Is When You Might See Them
Stephen Lam/Getty Images News/Getty Images
Apple sure knows how to keep the attention of its customers. The tech giant always has a steady stream of new products available for Apple loyalists who need to get their hands on the latest Apple Watch or iPhone. Well, if you've become a dedicated AirPods user, you could be in for some very exciting changes to the wireless headphones. Apple AirPods are reportedly getting an upgrade that will make using them so much better.
According to Bloomberg, Apple reportedly has plans to add some upgraded features to a new model of AirPods set to be released in 2019. Per the report, the news comes from sources "familiar with the matter." Elite Daily reached out to Apple for a comment on the upgraded AirPods, but hasn't heard back by the time of publication.
So, what changes might you expect with the improved AirPods? The high-end model of AirPods will reportedly have noise-cancelling capabilities and be water resistant to rain and perspiration, so you don't have to worry about a little sun-shower ruining a summer run.
The upgraded AirPods will also be able to work further away from your iPhone or iPad, thanks to the increased range capabilities. To complement the cord-free AirPods, there is also reportedly a wireless charging case that will accompany the upgraded ear buds. OK, these upgraded AirPods sound like the headphones of your Apple dreams.
Again, there is no word from Apple on the confirmation of when these new AirPods might be available, but you can expect the upgraded AirPods to cost more than the current version's $159 price tag, per Tech Crunch.
Apple first released the wireless AirPods in December 2016, and there hasn't yet been an upgraded version of the popular Apple accessory. So, the new AirPods are, naturally, a highly anticipated release from Apple. Luckily, there are reports that there may be a new version of the AirPods released before the end of 2018. Now, this version won't include the upgrades that are rumored to be in the AirPods slated for a 2019 release, but the next series of AirPods will give you a more hands-free experience.
According to Bloomberg, the AirPods set to precede the water-resistant and noise-cancelling version will give users the ability to summon Siri's assistance by simply saying "Hey, Siri." Currently, you have to double-tap the side of either headphone to get to your digital personal assistant.
While all this AirPod news is exciting for people who like to listen to their music or podcasts hands-free, there is also news of new over-ear headphones from Apple. The reportedly "studio-quality" headphones are also set to be released in 2019. You can expect higher quality sound from Apple's new over-ear headphones, as they are reportedly meant to be a "higher-end alternative" to the Beats line of headphones that Apple already sells.
From these reports, it sounds like Apple is really upping its headphone game in 2019. If you're excited about the longer range AirPods set for a 2019 release, then you'll be pumped to hear that there are also reportedly internal talks at Apple about upgrades to AirPods to be released later than 2019. One of the discussed features of future AirPods is the addition of biometric sensors, like a heart-rate monitor that will help Apple "expand its health-related hardware offerings" to more devices than the Apple Watch.
Now, I usually only get really excited about Apple news when it includes new emojis, but the reportedly upgraded AirPods sound like the perfect way to enjoy your music or talk on the phone without getting distracted by outside noise or sent indoors because of a little rain. Of course, you have to wait until next year to try them out, but I think they'll be worth the wait.