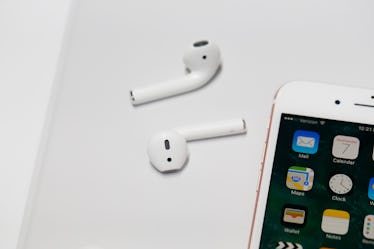 Apple Could Possibly Be Working On New AirPods For 2018, So Listen Up
Stephen Lam/Getty Images News/Getty Images
Apple is the gift that keeps on giving (though some products on your Christmas list might be easier to find than others). Now that a new rumor has gotten the attention of techies everywhere, they're beginning to wonder what happened to the company's earphones, and they're even starting to ask, "Is Apple releasing new AirPods?" Here's what you need to know.
Holidays are never an opportune time to run short on an item, but it looks like the AirPods are sold out online until 2018, Mashable reports. If you were looking to snag a new pair for your beau, you might have to suffice with an I.O.U. However, foregoing this gift option could be in your best interest.
You never want to leave your loved one hanging with an empty stocking on Christmas morning, but why opt for an old item if an updated version is set to make a debut in the near future? Apple analyst Ming-Chi Kuo of KGI Securities believes new models of AirPods will hit the shelves in the second half of 2018, so you might not have to rush to get that last-minute present for bae. But FYI, AppleInsider did spot a memo predicting that these babies will feature smaller components, but the price tag will increase (currently they're available for $159).
Although these rumors have begun making the rounds in the techosphere, they have yet to be confirmed, so don't alter your spending just yet. This holiday shortage is actually giving people in the industry reason to believe that there might be a bit of a struggle manufacturing the product, Mashable further claims. However, knowing Apple, experts believe the company is on top of the issue at hand (or at ear, I guess you can say).
No matter what happens in the year ahead — new AirPods or not — let's just hope that these bad boys actually manage to stay in your ears.
The company is certainly toying with our emotions as of late. Apple is also predicted to release a new iPhone in 2018, and in case you somehow missed when the earth stopped spinning thanks to the release of the iPhone 8 and iPhone X, you're going to want to brace yourself.
If you're prone to dropping your cell, cracking the screen, and putting your gadget through a bunch of wear and tear, you'll be happy to know that this 2018 edition will most likely come with a metal back, so you don't have to be quite as concerned about the item's delicateness. The iPhone X is considered to be the most breakable iPhone in existence, so this is a breath of fresh air. Even better? There might be fun color options available. According to a Japanese site titled Nikkei, which leaked the information about the upcoming phone, there could be a variety of color options (*crosses fingers for rose gold's return*). The source told Nikkei,
"The 6.1-inch LCD model will probably sport a metal back [like older iPhones] available in several colors," said the source, adding that the two OLED handsets will come in two sizes: one about 6.3 inches long and the other 5.8 inches."
If that isn't a lot to take in, I'm not sure what is — new phones, new headphones. What will Apple have in store for us next?
Until we know for sure what's being released in the year ahead, an iPhone X will have to do (which isn't such a bad option, either). Stay patient, techies.
Check out the entire Gen Why series and other videos on Facebook and the Bustle app across Apple TV, Roku, and Amazon Fire TV.