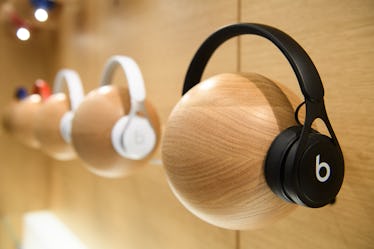 It's So Easy To Score Free Wireless Beats With Your Back-To-School MacBook Purchase
Leon Neal/Getty Images News/Getty Images
Being in your 20s nowadays is expensive AF. Aside from having to pay ghastly rent prices and exorbitantly high student loans, spending dollars on the latest technology is pretty necessary, and let me tell you — it isn't cheap. Luckily, though, Apple is running its back-to-school deal right now, and it is so good. So, if you're a current student who's looking to snag some gadgets on the cheap, here's how to get free Beats headphones from Apple with a back-to-school MacBook purchase. You'll most definitely want to get in on this.
Forget the department store deals, discounted school supplies, and shopping for your dorm room, because Apple's back-to-school deal through Sept. 25 is really where it's at right now. If you're a current or newly accepted college student, a parent of a student, faculty, staff, or a homeschool teacher, you can get some major discounts on technology with Apple education pricing, per the Apple website, and I'm beyond jealous. In addition to receiving 20 percent off AppleCare, you can get free Beats Solo3 Wireless headphones, Powerbeats3 Wireless earphones, or BeatsX earphones with a MacBook (excluding the 15-inch non Touch Bar MacBook Pro models) or an iPad purchase, per the Apple website.
To get the free Beats, you'll receive a "Promotion Savings" for the cost of the headphones with your qualifying purchase, per the terms and conditions on the Apple website. Just provide verification (like a school ID) that you're a college student or teacher, and you'll be good to go. It's pretty straight-forward, but make sure to check out the terms and conditions if you need additional information.
If you'll be a student for a few more years, you're in luck, because this is an annually recurring offer. However, it isn't valid year-round. Again, qualified purchasers can only take advantage of this glorious deal between now and Sept. 25. So, life hack: if you think your MacBook or iPad is going to die within the next few months, now could be the right time to replace it. Not only will you get free amenities (like glorious new Beats, for example), but you'll also be able to get better, discounted care for your devices, and honestly, these things are so pricey, you'll definitely want to take advantage of that.
Oh, and the Apple eduction pricing means that you can get up to $200 off of your new MacBook, per the Apple website. Plus, you can trade in an eligible device for credit toward your new MacBook.
If you're looking to replace your phone, on the other hand, Apple unfortunately won't be releasing any back-to-school deals for its famed smartphone. However, the tech giant is reportedly going to release three different versions of the next iPhone X this for fall 2018, and the changes honestly sound wild. Elite Daily reached out to Apple for comment on the iPhone reports but did not hear back at the time of publication.
According to reports, the new iPhones are going to vary greatly by price range, features, and most importantly, size, per Bloomberg. With a glass back and stainless steel edges, the biggest is reportedly going to sport a 6.5-inch screen, which would make it the biggest iPhone to ever be released. I don't know if I would personally be down to shlep that large of a phone in my back pocket, but think about it: watching Netflix on it will be absolutely epic.
Buying new technology can be financially exhausting, I get it. But Apple is totally coming in clutch with this crazy good student deal. Between free Beats with any MacBook or iPad purchase, discounted AppleCare, and free credits on each device, I'd imagine it's a pretty tough offer for any student to refuse. Just make sure to take advantage of it while it lasts, because it's only around for a super limited time. Merry back to school shopping to all, and to all a good night.