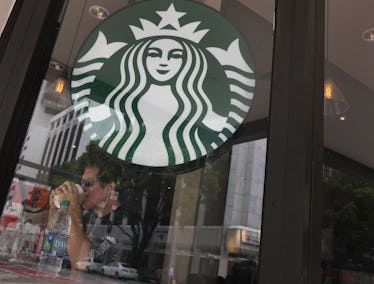 Here's What Time You Can Visit Starbucks On New Year's Day For A Caffeinated Sip
Joe Raedle/Getty Images News/Getty Images
Starbucks works around the clock to keep you caffeinated. The coffee shops locations across the country often open up before the sun rises and stay open late. So, with the holidays coming up, I've been wondering whether or not Starbucks will stay true to its usual hours. I decided to go directly to the source and find out, "Will Starbucks be open on New Year's Day 2019?" Representatives from Starbucks got back to me, and well, the answer is a little complicated. Here's what I know.
In an effort to continue to be a gathering place for all customers, Starbucks will be open on New Year's Day. The first day of 2019 takes place on a Tuesday, so you can still get your Starbucks fix on New Year's Day. Here's where it starts to get a little tricky. Not every Starbucks store will be following its usual hours. So, for example, if your local Starbucks shop opens up at 6 a.m., that might not be the case on New Year's Day. A representative from Starbucks told me that the New Year's Day hours will vary by location based on business needs and customer needs.
So, what should you do? My best advice to you is to call your local Starbucks store and find out. That is the fastest and most direct way to get an answer to your question. You may be presently surprised to find out that your nearby Starbucks store isn't adjusting their hours on New Year's Day. It really just depends.
If you need help finding the phone number for the Starbucks store of your choice, head on over to the Starbucks website. You will be able to find more information about the locations general hours, address, as well as the phone number by using the Starbucks Store Locator feature. All you need to do is plug in your zip code and the map will populate with all of the Starbucks stores in your area. Click the "i" with a circle around it to expand the details. That's where you will find the phone number for a particular Starbucks location.
If you don't like talking on the phone (I don't blame you), there is another way you can determine your favorite Starbucks' New Year's Day hours. Just ask your barista on your next visit. After you place your order, ask your barista what that particular locations hours will be on New Year's Day.
There are several big holidays yet to come this month. You may want to carry around a pen and paper to make note of the varying store hours that happen on all of the upcoming holidays. I'll go ahead and help you check one off of your list: Starbucks will be open on Christmas Day 2018.
Just remember to be extra nice to your barista during the holiday season. He or she might rather be relaxing on the couch, watching holiday movies, and loading up on snacks. But, alas, sometimes duty calls and you have to go to work. So while you are ordering up your Peppermint Mocha or Toasted White Chocolate Mocha, be patient and exhibit a little extra holiday cheer.