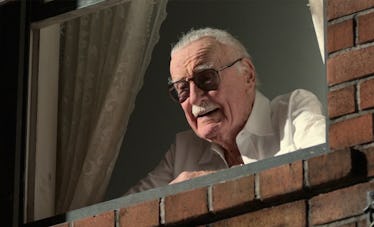 Here's What Marvel Fans Should Know About Stan Lee's 'Avengers 4' Cameo
Marvel
News of Marvel Comics icon Stan Lee's death on Monday broke the hearts of everyone who has ever flipped through a comic book, obsessed over superheroes, or even saw a blockbuster action movie in the past two decades. Lee remained an iconic fixture of Marvel Entertainment even to young newcomers to the franchise thanks to his constant cameos in the Marvel Cinematic Universe movies. Those cameos have come to be something Marvel fans can count on in each new movie, but with the news of his death, fans are wondering will Stan Lee appear in Avengers 4 next summer?
Thankfully, it sounds like Stan Lee was able to film his cameo in Avengers 4 before he died. Directors Joe and Anthony Russo told BBC Radio back in April that they film Lee's cameos in the various Marvel movies together, calling Ant-Man and the Wasp, Avengers: Infinity War, and Avengers 4 one example of Lee filming cameos for different movies at the same time.
Stan, typically we try to get him out — he doesn't love to fly — so we try to get him out for his cameos around the same time. So if we have other movies shooting on the same lot that we're on, for instance Ant-Man [and the Wasp] or Avengers 4, we group his cameos together and then move him from one set to the next and get him through his cameos in one day.
Since we did see Stan Lee pop up in both Ant-Man and the Wasp and Avengers: Infinity War earlier this year, that means his cameo in next summer's Avengers 4 was filmed before his death as well.
This also likely means that Stan Lee will have his usual cameo in Marvel's next upcoming movie, Captain Marvel, which will be released two months ahead of Avengers 4. But after those two movies, it is unclear exactly when the Stan Lee cameos will stop. The next Marvel movie after Avengers 4 is Spider-Man: Far From Home, which wrapped filming last month. Since principal photography wrapped before Lee's death, we will hopefully get to see one more cameo from him, but that it is not clear yet whether or not he was able to film a part.
The other questionable movie is Fox's upcoming Marvel Comics adaptation Dark Phoenix. Stan Lee is also known to pop up in Fox's X-Men and Deadpool movies regularly, but sadly, he may not have been able to film a cameo for Dark Phoenix. And after that, unfortunately it is doubtful that any future Marvel movie will ever contain a Stan Lee cameo again. At least fans can still see the man who made Marvel what it is by rewatching the scores of cameos he has already made in Marvel movies before his death, and of course, he still lives on in the stories and characters of each new Marvel movie.
The next Marvel movie to come out will be Captain Marvel on March 8, 2019, followed by Avengers 4 on May 3, 2019.