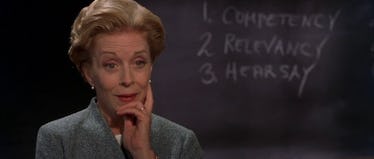 Holland Taylor Opens Up About Bringing Back Professor Stromwell In 'Legally Blonde 3'
MGM
Am I the girl you thought I was, professor? With news of Legally Blonde 3 in the works, we're all fascinated by what Elle Woods might be doing in this, the second decade of the 21st century. And while I feel I can be reasonably sure that her whole office on Capitol Hill is decorated in tasteful shades of millennial pink, I've also been speculating on what one of my other favorite characters might be up to in Legally Blonde 3: namely, Professor Stromwell, the hard-ass Harvard Law professor who prompted our girl Elle to be the best she could. But while I'm wondering, Holland Taylor, the actress who portrayed Stromwell (oh-so-memorably) has some ideas of her own.
"That was a wonderful part," she reminisces to me in an interview for Elite Daily. She says she's heard about the plans for a new film, and that she's "certainly hoping" to be in it. "Maybe she's a Supreme Court Justice by now! I think that would be appropriate," she laughs.
Before you get your hopes up, though, she reminds me that everything's still in development, and she doesn't know if we'll actually get to see Stromwell yet. "I hope it happens, and I hope [Stromwell's] on the Supreme Court," she says. From your lips to Reese Witherspoon's ears, professor.
In early June, Legally Blonde star Reese Witherspoon confirmed that she would be coming back as Elle Woods once more for a third installment, which will be produced by her production company, Hello Sunshine, according to CNN. And politics might well be in Elle's future: In a 2015 episode of Fashionably Late with Rachel Zoe, Witherspoon suggested that "it would be kind of a cool thing" for Elle to "be a Supreme Court Justice or somebody who runs for office, like president." So basically, a President Woods with a Justice Stromwell would go together like peaches and cream.
It would definitely be fitting to the world of 2018, which has seen some major changes since Elle first hit the screen in 2001. Stromwell, who supports and encourages Elle after she realizes that skeezy Professor Callahan (played by Victor Garber) only gave her the internship to try to get into her pants, has taken on a new relevance in the #MeToo era and when women are running for office in astonishing numbers.
Taylor recognizes that the character has become a cultural icon, saying, "People still tweet the picture with the logo underneath it of her saying 'you're not the girl I thought you were.' It's a meme, it's a thing that's in the zeitgeist now, so obviously it strikes a lot of nerves. I so think it remains and it will stay there."
I mean, I'm gif-ing it up over here just thinking about Stromwell on the Supreme Court (can we hope for an amazing dissent collar?), so I think it's safe to say Stromwell isn't going to be disappearing from Twitter anytime soon.
But right now, Taylor's focusing on portraying another famous feminist figure — Ann Richards, who is popularly credited as the first female governor of Texas to be elected in her own right, a liberal who ran Texas for four years in the early '90s (and was the mother of another famous woman: Cecile Richards, who recently stepped down as the head of Planned Parenthood after 12 years). Taylor is currently playing Richards in her self-written one-woman show Ann, which is currently streaming on BroadwayHD.
And if Professor Stromwell inspired us all, her portrayal of Ann Richards will definitely do so, too. Taylor notes that something these political women, one real and one fictional, have in common is supporting other women. "Ann was a great champion of women running for office," she says — something that feels more timely than ever, considering the record number of women running for office in 2018. As Politico notes, over 575 women have declared an intention to run for a seat in Congress or a governorship this election cycle. "We should be side-by-side with our brothers at the table. It's not that we want to replace them, it's that we want to be next to them in leadership," Taylor says.
And the lessons from these political women, one real and one fictional, are similar. "I think young women should just keep it in perspective, in the sense that you don't have to run for president," Taylor adds. "You can run for City Council, you can get on the school board. ... You'll understand what politics are and what the community is. And aspire. One step at a time."