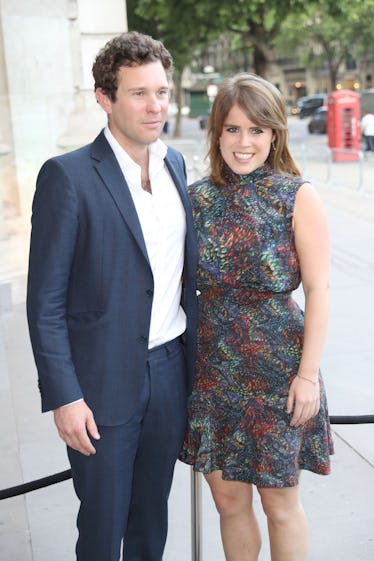 Here's What Princess Eugenie's Last Name Will Be When She Marries Jack Brooksbank
Chris Jackson/Getty Images Entertainment/Getty Images
The royal wedding of Prince Harry and Meghan Markle is long behind us. Thankfully, the upcoming royal wedding between Princess Eugenie and Jack Brooksbank is coming up on Oct. 12, helping you deal with any royal wedding withdrawals you've been experiencing since May. The couple has been together for seven years, so there's no doubt their love is built to last, but since their wedding is set to be more low-key than Harry and Meghan's, there's still plenty we don't know, including: Will Princess Eugenie take Jack Brooksbank's last name? The soon-to-be married couple is definitely doing things their way.
Now, if you aren't too familiar with the upcoming royal wedding, then worry not. As this wedding lacks the celebrity of Meghan Markle, and Princess Eugenie is further down on the line of succession (she is currently ninth in line to the throne), it isn't as big or as public of an event. But, interestingly enough, Princess Eugenie's wedding will take place at the same location as Prince Harry and Meghan's big day: St. George's Chapel at Windsor Castle. So, yes, it's still a fancy royal wedding, it's just not as talked about as Prince Harry's nuptials. Even though Princess Eugenie is following in the royal family's footsteps in some ways, she'll also be mixing things up when it comes to her name, and her future hubby's title.
According to Hello! magazine, after her wedding, the 28-year-old royal will most likely be known as "HRH Princess Eugenie, Mrs Jack Brooksbank," as she will be taking her husband's name. Brooksbank won't be given a title when they marry. This doesn't mean anything bad, or that the couple isn't as celebrated as, say, Prince Harry and Markle, who were granted the titles of Duke and Duchess of Sussex after their wedding. But, it also isn't surprising. As Marie Claire reports, royal tradition dictates only male, senior members of the royal family are given the title of Duke when they marry.
It seems as though Princess Eugenie and Brooksbank are totally in love and very much looking forward to their big day, despite not getting a joint title. Speaking to BBC, Princess Eugenie gushed about their proposal and how much she's looking forward to their big day. "I was over the moon. [It was a] complete surprise. But it was the perfect moment, we couldn't be happier."
The two have been together for eight years now, so this wedding, exciting as it may be, certainly isn't too shocking. Continuing her interview with BBC, the Princess explained that the two just connected at first. "We met when I was 20 and Jack was 24 and fell in love," she said. "We have the same passions and drive for life." Clearly, their wedding will be a happy day for all.
And in case you were wondering, yes: The royal wedding will be televised. According to Harper's Bazaar UK, British Network ITV will be broadcasting the event after reports that BBC allegedly turned down the opportunity. Hopefully, an American network will pick it up so that the world can watch as Princess Eugenie gets her fairytale ending and officially becomes Mrs. Jack Brooksbank.
Check out the "Best of Elite Daily" stream in the Bustle App for more stories just like this!