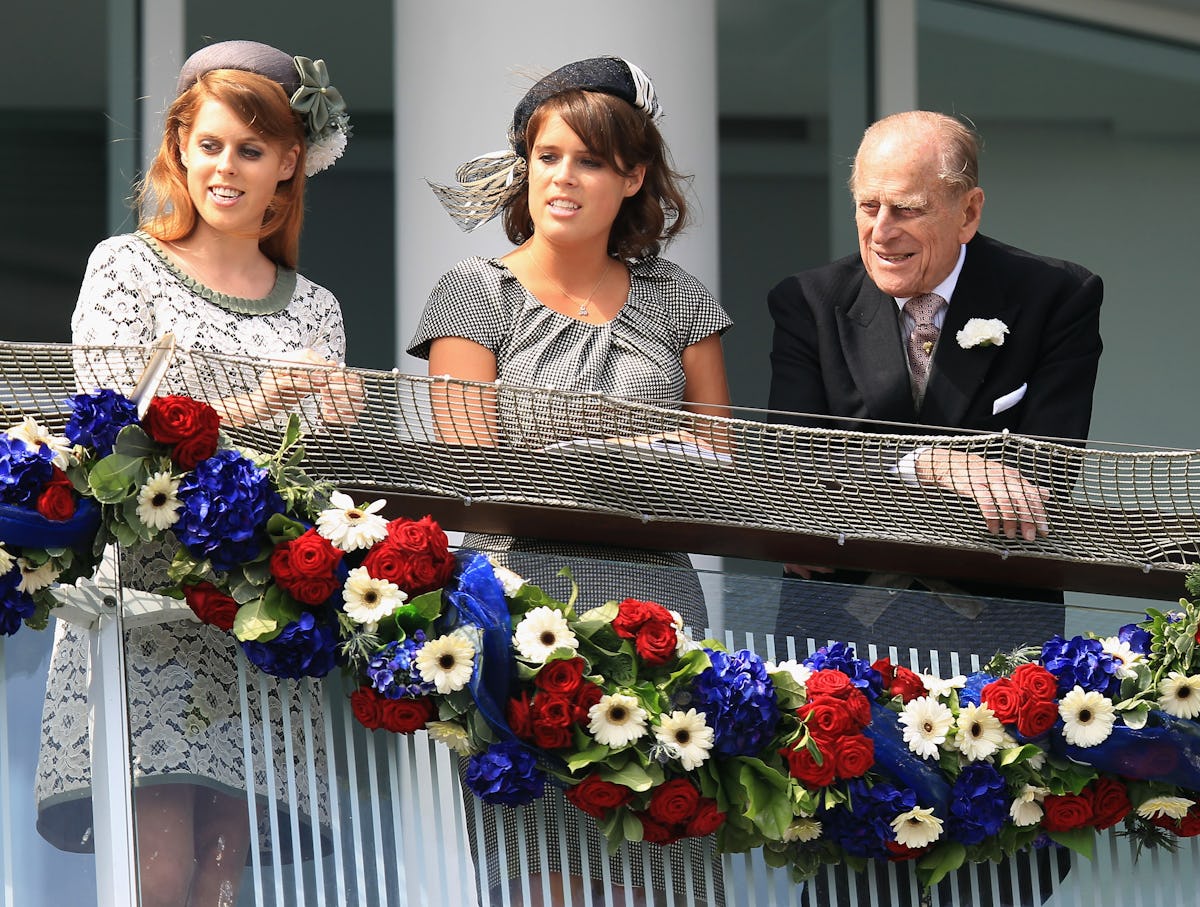 This Royal Family Member May Miss Princess Eugenie & Jack Brooksbank's Wedding
Bryn Lennon/Getty Images Sport/Getty Images
Princess Eugenie's wedding to Jack Brooksbank is almost here, you guys! I mean, it's on Oct. 12, 2018, and that's only two days away! The pair — who dated for seven years before getting engaged in January 2018 — will tie the knot at St George's Chapel on the grounds at Windsor Castle, just like Prince Harry, Duke of Sussex, did when he married the Duchess of Sussex, Meghan Markle, last spring. But while the British royal family has known about the big event for, like, a good 10 months now, that hasn't kept a few of them from possibly taking a last-minute pass. So I gotta wonder: Will Prince Philip be at Princess Eugenie's wedding? Maybe not. Elite Daily reached out to Palace officials but did not hear back in time for publication.
What we do know, is that Camilla Parker Bowles, Duchess of Cornwall and wife of Prince Charles, won't be there. The reason she'll be MIA? She has a school function in Scotland.
"I know it seems odd that Camilla's missing Eugenie's wedding but it doesn't indicate any malice or ill-feeling," royal commentator Victoria Arbiter explained on Twitter. "Royals don't like to disappoint. Given she'd already committed to attending a school event it's duty first."
Uh, okayyyyy. Who chooses a school event over a royal wedding? You've had 10 months to reschedule, Camilla, so what gives?
"Turns out Camilla is carrying out 2 engagements with a number of children on Friday 12th, Eugenie's wedding day," Arbiter continued in a follow-up post. "This stuff is not as easy to reschedule as you might think."
Anyway, now it looks like Prince Philip may be bowing out of the festivities as well. And get this: apparently he won't make a decision until the last minute.
"The Duke of Edinburgh may not go to the wedding, just as he and the Queen did not attend Prince Louis christening in July," a source told The Daily Telegraph. "There's not a three line whip on these family occasions. Not unreasonably, when you consider his age, the Duke of Edinburgh will decide on the morning of the wedding if he's going to be there. He now very much operates on a 'wake up and see how I feel' basis.'"
Look, I get it: Prince Philip is 97 years old, and his health isn't the greatest. So I'mma give him a pass for making a last minute judgment call.
Meanwhile, it looks like the Duke and Duchess of Sussex might be missing part of the big day, too. According to Harper's Bazaar, Prince Harry and Meghan Markle will head back to the scene of their own wedding on Friday, Oct. 12, in order to be among the 850 guests to attend the ceremony and watch Princess Eugenie tie the knot. But they may have to miss the Saturday evening celebration on Oct. 13 due to their Pacific tour of Australia, New Zealand, Tonga, and Fiji, which starts in Sydney on Tuesday, Oct. 16. Since that will be Monday night UK time, and it's a 22-hour flight, and they may need to leave London on Saturday night to make it.
Peace out, guys!
If you want to catch Eugenie's wedding for yourself, it will be broadcast on TLC, so head over to their website at 4:25 a.m. ET/PT to stream it live.