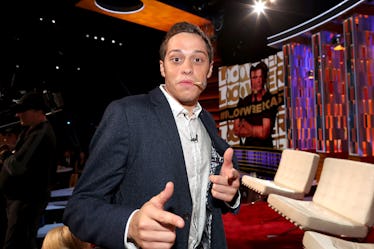 People Are Wondering If Pete Davidson Will Be On 'SNL' This Weekend After Canceled Gigs
Christopher Polk/Getty Images Entertainment/Getty Images
I'd ask the question "What's going on with Pete Davidson?" but I think everyone knows the answer. The young comedian has been grappling with the aftermath of his breakup with ex-fiancé, Ariana Grande, and it looks like it's been a challenging experience to deal with from here. He's been keeping a super low profile, totally erasing himself from social media and all but disappearing from the public eye. He's also been canceling comedy shows. Maybe a better question is: Will Pete Davidson be on Saturday Night Live on Nov. 3? Honestly, probably. Considering the NBC gig is the backbone to his comedy career, the odds of him dipping out of the show are small. However, I wouldn't blame him for trying.
Grande and Davidson had one of the fastest engagements Hollywood has ever seen. At the end of May 2018, fans found out they were together and Davidson popped the question by June. By all standards, they were totally obsessed with each other. Then, it all came to a screeching halt when TMZ first reported the dreamlike romance was over on Oct. 14. Their relationship left just as swiftly as it came. Now, Davidson has been canceling comedy gigs, leaving his fans wondering what his status is on SNL.
It was only a few weeks ago Davidson appeared on SNL'sWeekend Update segment to joyfully talk about his relationship with Grande. At the time, he joked about what would happen if they broke up, explaining someday Grande's love song to him (aptly titled "Pete Davidson") would be playing in a Kmart and "he'd be working there." He also teased he wanted to sign a prenup, saying, "God forbid we split up and she takes half my sneakers." I honestly think the segment was Pete at his most charismatic, but it's a real bummer to watch now.
Most recently, TMZ reported Davidson pulled out of a show at Temple University. Reportedly, he was scheduled to headline their "Comedy Night Live" event, but was unable to make it last minute due to "personal reasons." Less than a week prior, US Weekly reported he pulled out of a show at Saint Louis University originally scheduled for Oct. 25 for similar reasons.
Immediately following his breakup with Grande, Davidson participated in a show with Judd Apatow called Judd & Pete for America in West Hollywood. During that performance, Davidson told the audience, "Well, as you could tell, I don't want to be here. There's a lot going on." Surprisingly, Davidson addressed the elephant in the room and even talked about all of the tattoos he and Grande got together during their relationship.
"So, obviously you know I, we broke up or whatever but when me and her first got engaged we got tattoos," he started. "And it was, like, in a magazine, like, 'Was Pete Davidson stupid?' And 93 percent of it said yes. So my boy, he was like, 'Don't listen to that s**t man. They're literally f**king haters.' And I'm like, 'Yeah, f**k that. I'm not stupid.' And the other day we were in my kitchen and he was like, 'Yo bro. Turns out you were stupid.'"
Oof.
Hang in there, Pete. I'd love to see you back on TV Nov. 3!