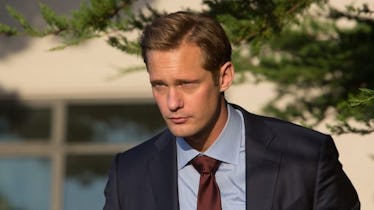 Alexander Skarsgård Just Hinted At Perry's Return To 'Big Little Lies' Season 2
HBO
It's been one year, five months, and 25 days since the Big Little Lies Season 1 finale, but who's counting? Hopes for a second season spawned as soon as the credits rolled and fans were lucky enough to get their wish granted. Even though the dream has become a reality and tidbits of info about the future plot have been rolling in ever so slowly, there are still a lot of unanswered questions about what to expect. One of those questions is: Will Perry be on Big Little Lies Season 2? Actor Alexander Skarsgård has played coy on the prospect, but he recently confirmed that he was indeed on the set.
"I was on set, yes. I can't disclose what I did on set," Skarsgård teased on Sept. 25's episode of Tonight Show Starring Jimmy Fallon. "Maybe, I was acting. I might have been just moral support. I might have just made coffee for the ladies. I might have helped Meryl Streep with her acting… Not help, but just give her little pointers, fine tune it a bit."
Always the jokester, that one. He sure knows how to spin a definitive admission, though it sure sounds like BLL viewers can anticipate at least a Perry cameo upon the series' return.
Warning: Spoilers ahead about the ending of Big Little Lies Season 2. Skarsgård's character Perry Wright, the abusive husband of Nicole Kidman's Celeste, met his apparent death on the show's finale when Bonnie (Zoe Kravitz) pushed him down a flight of stairs.
"I don't even know if I'm really dead or not. I feel okay right now but we'll see," Skarsgard previously remarked to People regarding his fate on the series. TVLine reported in January that he is "expected to return in some capacity." It seems likely that his presence will be in the form of a flashback since the show doesn't exactly have the kind of soap opera vibes that would allow for a shocking comeback from the supposed grave.
It's not like Perry's connection to the women of Big Little Lies has been severed following his demise. Meryl Streep will have a major arc next season playing his mother, Mary Louise Wright. "Concerned for the well-being of her grandchildren following her son's death, Mary Louise arrives in Monterey searching for answers" the character's casting breakdown reads.
"I'm either drawn to material or I'm not. It's a visceral reaction," Alexander Skarsgård told Entertainment Weekly last year after Big Little Lies' conclusion. The actor picked up Emmy, Golden Globe, SAG, and Critics' Choice awards for his portrayal of Perry. Skarsgård further explained why he decided to take on the villainous role, saying,
There isn't a strategy to it. I don't think about what it's going to do to my career. I always know instinctively if I'm right for something or I'm not. If I'm not intrigued by the character, I shouldn't do it. In this case, it was easy. The material was so well written. It was such a fascinating character, albeit incredibly, incredibly dark. And I was drawn to him. He wasn't a one-dimensional bad guy. It was very interesting.
Audiences will find out how Perry will be woven into Season 2's narrative soon enough. They just have to be patient. Season 2 of Big Little Lies isn't expected to premiere until 2019.