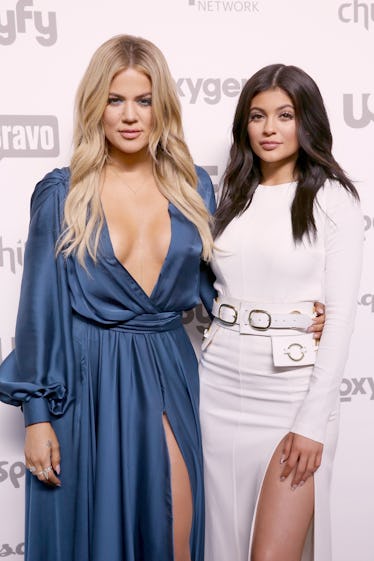 Kylie Jenner & Khloé K May Have Their Second Babies At The Same Time, Just Like Last Time
Robin Marchant/Getty Images Entertainment/Getty Images
If you're in the mood for some happy news and are a fan of the Kardashian family (who isn't, amirite?), I may have something to lift your spirits up today. We all know that Khloé Kardashian and Kylie Jenner both were pregnant around the same time (even though we couldn't confirm that until after Kylie revealed she had given birth to her daughter, Stormi) — but what if it happened again at the same time? It seems like that might not actually be so far out of the question, according to a new report. So it makes one wonder: will Kylie Jenner and Khloé Kardashian have more kids? And if they do, will they plan to get pregnant at the same time? It looks like there's a real possibility of that happening. Elite Daily reached out to the Kardashians' team for comment on the report, but did not hear back by the time of publication.
A source told Entertainment Tonight that the Keeping Up With The Kardashians siblings may both try to become pregnant again soon, after each welcomed daughters True and Stormi earlier this year, and only months apart.
"Now that she's a mom, Khloe's never been happier," the source said, revealing that Khloé is in "such a good place now" with Tristan Thompson, who is True's father. "She has wanted this baby more than anything and motherhood has proven to be even more incredible than she imagined."
Expanding on her relationship with Thompson, the source said,
Her relationship with Tristan is so good. They made it through some really dark times, but she's happy that she gave him a second chance because he's stepped up and is not only an amazing father to True, but he's been such a rock for Khloe. They're really just so in love.
Hey, if KoKo's happy, then I'm happy.
The source also noted that Khloé wants to get pregnant soon because of the difficulties she faced getting pregnant with True. "It was a difficult journey [for Khloe] to get pregnant the first time, so she's aware it may take some time again," the source said, adding, "She doesn't want to delay trying. That being said, she's not putting any pressure on herself or overthinking it. It will happen when it happens. [She's] not not trying."
Great use of a double negative right there.
In terms of Khloé's sister Kylie, she reportedly has more of a "timeline" for her second child with boyfriend Travis Scott, mainly because of Scott's busy work schedule.
"Kylie and Travis are going to wait until he's finished his [Astroworld] tour before trying for another baby," the source said. "They want to have another child soon so it's close in age to Stormi, but they do not want to do this while he's busy on the road."
"[Kylie's] created a really beautiful life for herself," the source explained. "She has a successful business that's close to home. She really loves what she does and also loves that she can still be so hands-on with Stormi. She really has everything she's ever dreamed of and feels so blessed."
When it comes to both siblings getting pregnant at the same time, the source revealed that the timing on both ends might allow for that to happen.
"Kylie and Khloe would love to be pregnant together again. And it seems like the timing could work out that way," the source said. "It was a real bonding experience for them, but more importantly, it's been amazing for their daughters to be so close in age. There are so many kids/grandkids in that family, that's really where the family's attention is. It's all about the next generation."
Alright, fam. If you need me, I'll just be over here, obsessing over the idea that Khloé and Kylie will get pregnant together again until it actually happens.