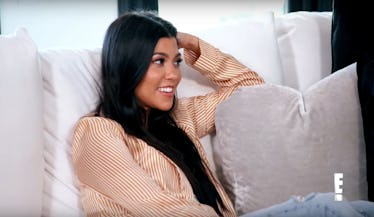 Kourtney Kardashian Gets Real About Having More Kids In New 'KUWTK' Video
E! Entertainment/ YouTube
Thanks to the addition of Kylie Jenner's new baby girl, Stormi, Kris Jenner is officially the grandmom to seven grandkids — SEVEN! And Khloé Kardashian still has one child on the way, so let's go ahead and make that eight. There's Kim and Kayne's fam made up of North, Saint, and Chicago West; Rob Kardashian's daughter Dream; and the trio of kiddos born to Kourtney and ex-boyfriend, Scott Disick, made up of 8-year-old Mason, 5-year-old Penelope, and 3-year-old Reign. Now that she's got a new man in her life, I have to wonder: Will Kourtney Kardashian have more kids? The reality star admitted in a sneak peek for the next episode of Keeping Up With The Kardashians that she is keeping her options open.
Kourt is currently dating 24-year-old Algerian model Younes Bendjima, and the oldest of all the Kardashian siblings — she's 38 — told her sisters Kim and Khloe that since she can't predict whether or not she'll want to have more children some day in the future, she's considering taking precautionary measures.
"I'm thinking about freezing my eggs," she told them. "What if I want another kid in the next 10 years? Wouldn't you rather have the insurance, like, sitting there?"
Watch:
Don't you just love how Kim's all "Who would you have a kid with?" Like, duh, Kim! Even I get that Kourtney's worried because Bendjima is still in his early 20s, and he may want to have kids one day. And since these things get more difficult with every second that ticks by after the age of 40, mama ain't taking any chances.
But Kim still doesn't get it. "Wouldn't you just say, 'Hey, Scott, give me your sperm,' and they put it in a turkey baster and stick it up you?" she asked. And, like, way to be supportive of the fact that your big sister is finally moving on from the on-again, off-again relationship that's held her back for at least a decade.
"I don't need a baby to have a baby, I already have three kids," Kourtney patiently explained. "I'm saying if I am, like, in love, and the person wants to have a kids..."
"So you're thinking about a younger guy!" Khloé interjects, finally understanding.
The youngest of the three Kardashians sisters — currently pregnant with her first bambino with boyfriend Tristan Thompson — also had my favorite line of the entire exchange:
Kourtney: What if I want my love to come into the world?
Khloé: Ugh
Kourtney: That's gross to you?
Khloé: So weird that babies are born
BAHAHAHA #truth!
Also, when is KoKo planning to add a line of huge hoops to her Good American collection? Yes, they are bigger than her face, but those things are straight fire and I seriously need a pair in my life.
Meanwhile, fans seem to be totally digging Kourt and her new man together:
The couple started dating officially back in December 2016, and Kourt detailed their initial encounter on an episode of Keeping Up With The Kardashians.
"He was friends with our friends," she explained on the show. "He would walk in, say hi, shake hands with like our security or whatever, but like not say hi to us. And then I was like, 'Why do you hate us?' I was just drunk. Once I said that he literally like grabbed my hand and was like, 'It's five in the morning. We're leaving.' And then next night Younes was like, 'Bring your a*s here.'"
OK, so maybe it wasn't the most romantic of encounters. But fast forward a year and change and the dude now seems to be a permanent fixture in Kourt's life, so he must have done something right. Will there really be more kids for these two down the road?
I can think of at least one person who would so not be down.