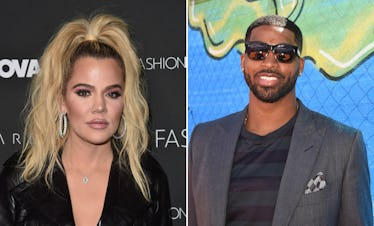 Here Are The Chances Khloé Kardashian & Tristan Thompson Will Spend Christmas Together
Alberto E. Rodriguez/Kevin Winter/Getty Images Entertainment/Getty Images
The holiday season is upon us, and that means making lists, checking them twice, and figuring out what exactly all of your favorite celebs are doing in order to celebrate. Will there be huge parties? Small gatherings? Will they share everything on their Instagram Stories? (Please, please let this be the case.) While we're not sure what the whole Kardashian family is up to yet in terms of celebrating Christmas, we are wondering one thing about a particular sibling: Will Khloé Kardashian and Tristan Thompson spend Christmas together? The couple has definitely had a rocky road this past year, but they also have their daughter, True, to think about. Let's investigate, shall we?
Thanks to Kim Kardashian, we got a little tidbit of information about Khloé and her little family's potential plans — and guess what? It may or may not involve Thompson. According to E! News, Kim revealed that she's not exactly sure what Khloé is going to do, but the one thing she does know for sure is that Khloé and True will be with the family on Christmas Eve for their holiday party. While Khloé RSVP'ed "yes" for herself and her daughter, the jury is apparently still out on Tristan Thompson. Elite Daily reached out to Kardashian's team for comment on their Christmas plans, but did not hear back by the time of publication.
But before we start jumping to conclusions, it appears that it's because of Tristan's work schedule, and nothing personal. Kim indicated that Khloé's boyfriend typically has a game on Christmas, which would make sense as to why he'd be unable to come to the Christmas Eve party. But does that mean that Khloé and True won't be celebrating with Tristan at all?
After some internet sleuthing, it seems as though the Cavaliers will be playing in Cleveland on Dec. 23 and then in Memphis on Dec. 26. So *technically* speaking, Tristan would be available to celebrate the holiday, but it would be pretty intense to have all of those commitments stacked in such a short period of time. Of course, Khloé could possibly fly to L.A. on Christmas Eve and then fly back to Cleveland on Christmas Day to be with Tristan, but that amount of flying (with a baby, no less) in a short time period sounds awfully challenging. I can barely keep my sh*t together traveling by myself, let alone with another human who depends on me.
While we're not exactly clear about where Khloé will be celebrating the holidays, we do know that she reportedly thinks it's super important for True to be with her family to ensure that she has her very own special family traditions.
A source from E! News revealed that, this past Thanksgiving, Khloé wanted to celebrate the holiday with Tristan as a family. The source said,
Tristan's schedule worked out so they could spend Thanksgiving together in Cleveland. It's True's first Thanksgiving and Khloé wants to celebrate it as a family. It's very important to her that True has her own family traditions and is with both her mom and dad.
And it turns out the source was right, considering Khloé, Tristan, and True did end up spending the holiday all together. Look at the adorable photo Tristan Thompson posted on Instagram:
No matter where Khloé, Tristan, and True end up, let's all hope that they have a very merry Christmas spent with people who love them.