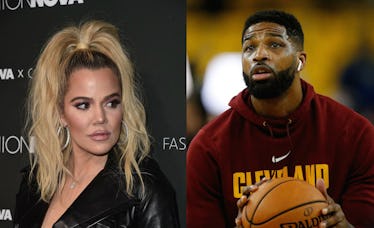 People Are Pissed At Tristan Thompson After Sharing This Pic With Khloé K On Thanksgiving
Alberto E. Rodriguez/Getty Images Entertainment/Getty Images & Lachlan Cunningham/Getty Images Sport/Getty Images
The holidays are a time where families come together to celebrate good things big and small, but some families definitely have more to celebrate than others. Thursday, Nov. 22 marked Thanksgiving Day, and while many people were taking to social media to share their thanks, Khloé Kardashian and Tristan Thompson's Thanksgiving Instagram had some fans up in arms. The drama continues.
On Thursday, Nov. 22, Cleveland Cavaliers player Tristan Thompson took to Instagram to share a photo of him and his family celebrating Thanksgiving and him writing how "blessed" his life is. Admittedly, the photo is super cute, especially since Khloé Kardashian and their daughter True Thompson are beaming ear-to-ear. However, after Thompson posted the photo on Instagram, a slew of angry fans proceeded to leave negative comments on the NBA player's Instagram, calling out Thompson for his so-called "family values." Elite Daily reached out to both Kardashian and Thompson's teams for comment, but did not hear back in time for publication. Well, considering the recent episodes of Keeping Up With The Kardashians that chronicle Thompson's reported cheating, I would say that this family photo could have been posted at a better time.
Thompson's caption read,
I'm soo blessed Happy thanksgiving from my family to yours #GiveThanks#blessed
Fans went off in the comments. "You're so lucky to have them, tho you dont deserve them," one Instagram user wrote.
"Wow... you finally posted a picture of the 3 of you," another user wrote referencing Thompson's quiet social media presence.
Despite the multitude of negative comments, other fans took to Thompson's photo to congratulate the family on staying together and fighting through the drama.
"Happy thanksgiving to you both," on user wrote. "I am so glad to see you have patched things up."
This ongoing Kardashian-Thompson drama may have took up most of 2018, but it's nice to see that these two can put drama aside in order to spend a beautiful holiday together.
In April 2018, social media basically blew up when photos surfaced of Thompson reportedly kissing a woman in a New York City club (and right before Kardashian was about to give birth to their daughter True). Elite Daily reached out to Thompson and Kardashian's teams for comment about the reports at the time, but did not hear back.
Since then, everyone had been wondering how the couple would recover from the news, but judging from recent social media posts and Instagram photos, it looks like the two are really trying to make it work. However, as of recently, episodes of KUWTK have been about the Kardashian family finding out about Thompson's alleged cheating, and it's basically like reliving the drama all over again. According to reports, Thompson has refused to watch these episodes in order to focus on his team the Cleveland Cavaliers (who are 2-14 at the moment). Despite Thompson's apparent dismissiveness, Kardashian has taken to Twitter on multiple occasions to provide some much needed commentary on the episodes. On Nov. 18, she defended her decision to stay with Thompson and let him be in the delivery room while she was giving birth to True. She wrote,
Regardless of what Tristan did to me, I was never going to take that moment away from True or Tristan. She should not be punished for his actions. He is her father and they both deserve to love one another as deeply as They possibly can.
No matter how we may feel about the situation, family is family. I, for one, hope to see many more holiday traditions for these three.