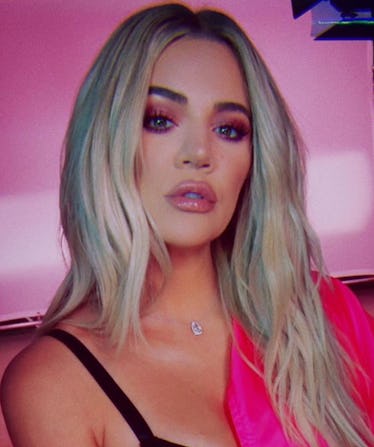 Here's What We Know About Where Khloé Kardashian Will Celebrate Thanksgiving This Year
Khloé Kardashian's life has changed quite a lot in 2018. Between giving birth to her first child and grappling with the aftermath of reports her boyfriend, Tristan Thompson, cheated, 2018 has been a wild year for Kardashian. But the Keeping Up with the Kardashians star hasn't let anything get in the way of creating a solid home and family life for her 7-month-old daughter, True. And her dedication to motherhood has left fans wondering what her plans for the holidays are. So, will Khloé Kardashian spend Thanksgiving in Cleveland? That's where True's dad spends a lot of his time and it's also where Kardashian spent Thanksgiving in 2017.
Last year, Kardashian spent the holiday with Thompson in Cleveland, where she put together an extravagant dinner. It basically had a little bit of everything. According to E! News, the menu was full of lots of delicious foods including "apple pie, bread, chicken wings, cinnamon buns, cookies, cornbread, doughnuts, gravy, greens, macaroni and cheese, pumpkin pie, stuffing, sweet creamed corn, sweet potato soufflé, and, of course, turkey."
At the time, Kardashian explained how her Thanksgiving was going in a Snapchat post.
"I'm exhausted but it's worth it [to be] cooking and slaving away in the kitchen. I love everyone's reactions and just making everybody happy with food. It's so rewarding," she said in the video. "I hope all you guys are having an amazing Thanksgiving. I need to kick my feet up for a minute."
And while all of that love and effort culminated in what seems like a fantastic Thanksgiving meal, I'm not sure Kardashian will be up to repeat that whole process again this year. For starters, Kardashian's journey into motherhood is still pretty new, so she's putting a lot of energy and love into that.
On top of that, though, her relationship with Thompson has changed since he was implicated in a cheating scandal by The Daily Mail in April 2018. Elite Daily previously reached out to Kardashian and Thompson's teams but did not hear back. To add insult to injury, the cheating reports surfaced just as Kardashian was about to give birth to baby True. So, the whole dynamic of the relationship is likely different now than it was a year ago. And a source close to the situation pretty much confirmed that to People in a Nov. 7 report.
"Dealing with Tristan's cheating has been very difficult for Khloé. When they have had good moments, she forgets about how hurt she got, but then when she gets reminded, she still gets upset," People's source explained.
The relationship has reportedly changed so much that Kardashian doesn't even really define the relationship in typical terms.
"She doesn't define her relationship with Tristan — she only talks about him as True's dad," the source said.
That makes it sound as though Kardashian and Thompson have become somewhat distant. But if their relationship is in jeopardy, they're definitely not letting it affect how they parent True. People's source says Kardashian is committed to giving True as normal an upbringing as possible.
"On the outside, she acts all tough, but it still gets to her. But what it comes down to is that Khloé wants True to grow up in a family with both parents," the source revealed. "She wants True to spend as much time with her dad as possible. She believes that True needs a mom and dad in her life."
That could mean that Kardashian will at least spend the holidays with Thompson. It remains to be seen, however, whether Kardashian will spend the Thanksgiving holiday in Cleveland. It's possible that she might, especially since the California wildfires are hitting close to home.
Kardashian even tweeted about it:
So, I guess everyone will just have to wait and see if Kardashian heads to Cleveland for the holiday.