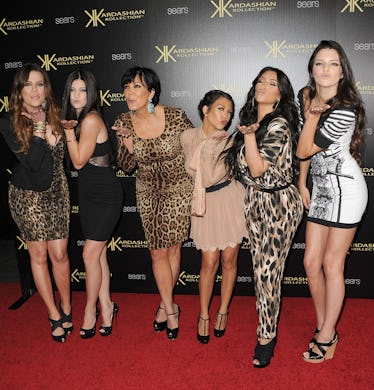 Here's What The Kardashians Actually Eat On Thanksgiving, Because I Know You're Curious
Jason Merritt/TERM/Getty Images Entertainment/Getty Images
Thanksgiving is easily one of my favorite holidays of all time. You get all glammed up but only have to travel to your living room, and you can eat massive portions of delicious food you'd never get to eat on a normal day. Add in a holiday parade and a day full of shopping deals the very next morning, and you've got yourself a pretty fantastic setup, if you ask me. But I do always wonder whether or not celebrities celebrate Thanksgiving the same day as I do? Does Kim Kardashian really indulge with sweet potato pie and multiple servings of stuffing? Well, according to my very scientific research, here's what the Kardashians actually eat on Thanksgiving, and, to be honest, it sounds a lot like what goes on my plate, too.
For Thanksgiving dinner:
It seems like the Kardashian family go all out on Thanksgiving (like we'd believe it if they did anything less) in terms of cooking and decorating. We'll try to stick to the food essentials, though, because I could write at least five novels on the absurdly fantastic decor the Kardashians use for the holidays.
According to People, Kris Jenner said that her family feasts on the Thanksgiving day essentials, just like the rest of us. "We do a very traditional Thanksgiving dinner," the momager told the magazine back in 2014. "It's turkey and dressing, gravy, mashies, veggies and stuffing and, of course, a gazillion desserts."
I don't know what I love more: Kris Jenner noshing on the same Thanksgiving staples as I do, or the fact that she calls mashed potatoes "mashies."
Moms have no time for full words. Abbreviations only.
Of course, you could take things up a notch a là Kylie Jenner and add a few more classics into the Thanksgiving Day menu.
Back in 2017, Kylie (who was pregnant, unbeknownst to the world) hosted the holiday, and the photos from each of the Kardashians' Instagram Stories proved that she was absolutely crushing Thanksgiving Day. I mean:
Based off of sis Kendall Jenner's Instagram photo, the main meal consisted of turkey and ham, and featured mouth-watering sides like stuffing, mashed potatoes, mac and cheese, cranberry sauce, sweet potato casserole, and brussels sprouts.
But hey, if you were wondering if any of the Kardashians like to create a unique spin on the classic holiday meals, then Khloé is the sister to look to. Instead of traveling to spend Thanksgiving with the rest of her family in 2017, Khloé stayed in Cleveland with boyfriend Tristan Thompson, taking to Snapchat to show off all of her meal prep for the big day.
According to E!, her dinner menu included things like chicken wings, cornbread, gravy, greens, macaroni and cheese, stuffing, sweet creamed corn, sweet potato soufflé, and turkey.
Raise your hand if you'd personally love to sit at Khloé's dinner table for a holiday.
"I'm exhausted but it's worth it [to be] cooking and slaving away in the kitchen. I love everyone's reactions and just making everybody happy with food. It's so rewarding," she told her followers on Snapchat, according to E!, adding, "I hope all you guys are having an amazing Thanksgiving. I need to kick my feet up for a minute."
You kick your feet up all you want, girl. You've earned it.
For Thanksgiving Day dessert:
In case you were wondering what after-dinner treats looked like at Kylie's house last year, her Snapchat revealed that they had delicious desserts like donuts, cake pops, gingerbread whoopie pies, and Rice Krispie treat turkeys (apparently made by older sister Kim):
We see you, Kim, with those DIY treats! We see you, and we like what you're putting down.
So if you feel like maybe you should skip on that second serving of mashed potatoes, or go easy on the pumpkin pie, just think WWTKD (What Would The Kardashians Do)? Go up and grab whatever your stomach desires. It's a holiday, and if the Kardashians can have a fabulous meal on a holiday, so can you.