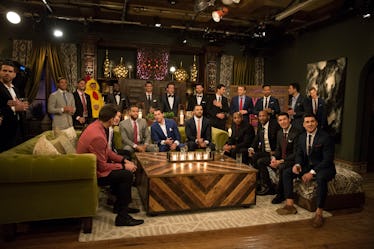 'Bachelorette' Fans Are So Pissed Becca Sent This Contestant Home & They Want Justice
ABC/Bob Hebert
There's one contestant who made quite the impression on the premiere of Becca's Bachelorette season — unfortunately the impression wasn't on Becca. The internet has spoken. Spoilers from the first episode of The Bachelorette Season 14, by the way. Joe, aka the cute grocery store owner from Chicago, became a fan favorite of the night despite his early elimination. His thick accent, wink, and fondness for perfect produce won over Bachelor Nation, prompting the question: Will Joe be on Bachelor In Paradise? It's time to get a petition started, people.
"I know my fruits and vegetables, I know tomatoes very good. Women... not so lucky," Joe adorably remarked in his intro video, before tossing the fruit with the greatest of ease. "I deal with produce, but one thing I haven't produced yet is love."
Zing! OK, someone get this guy his own CBS sitcom. I would definitely tune into a show like "Producing Love," a lighthearted multi-cam about a midwestern market manager looking for a soulmate that doesn't come with an expiration date.
Not only did Joe act like a total charmer to begin with, he became even more adorable when he completely froze during the all-important limo entrances.
"I forgot everything I was gonna say to you," he told Becca, at a loss for words upon approaching her. She noted he was nervous, and he explained to the camera that she looked so amazing that it threw him off. He also added that he would "marry her right now."
Of course, Twitter took notice. Especially when Becca didn't end up giving him a rose. And thus, the hashtag #JusticeForJoe was born.
According to Joe's ABC Bachelorette bio, 31-year-old Joe was "formerly one of the youngest traders on the Chicago stock exchange" who "turned a successful career in big finance into a successful career in small business." He never forgets a face and his ideal first date would be at a "nice restaurant with good wine and good food."
Unfortunately America will not get a chance to see him go on a date with Becca, but there's always Paradise...
Casting for the next season of Bachelor in Paradise is currently coming together and will definitely feature cast-offs from Becca's season. If America is lucky, Joe might just get a chance to be a part of the 2018 crop of cast members looking for love under the Mexico sun.
"The cast is being cemented right now," Chris Harrison recently told E! News regarding what to expect from the fifth season of BiP. "I've heard some people. It's a who's who. It's a veritable who's who of Bachelor favorites and a lot of obviously recent names that will be coming from this season of The Bachelorette..."
Following the outpouring of support for Joe during Monday's premiere, Chris also took to Twitter to hint at Joe's reality TV future. "Maybe a quick stop in Paradise first," he wrote, replying to a viewer who expressed interest in seeing Joe as the next Bachelor. "I hope they have grocery stores in Paradise!!!" he also tweeted, before saying he "can't confirm or deny" #GroceryStoreJoe's participation in Bachelor in Paradise. Hmm. Kinda sounds like you're trying to tell us something, Chris...
"I don't think there was anyone we really wanted that we didn't get. We're absolutely thrilled. It's going to be a fantastic season," ABC executive Rob Mills teased to Variety about the upcoming Bachelor in Paradise cast.
Becca may have eliminated grocer Joe on the very first night, but I'd bet my freshest tomato that Bachelor Nation hasn't seen the last of him.