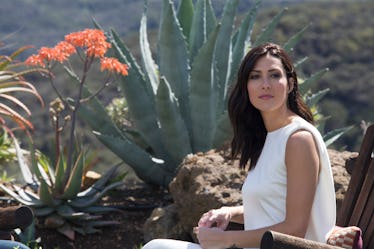 Becca Sent Home This Fan-Favorite Contestant & Fans Already Want Him As The Bachelor
ABC/Paul Hebert
Jason was a Bachelorette dark horse up until about week 6 of Season 14 — TBH, even Becca forgot his actual name at one point. But the Buffalo native and charming hocky fan eventually found his way into the her heart (and America's) leading Bachelor Nation to ask: Will Jason be The Bachelor? The finalist could surely be in the running for the coveted reality TV gig.
"When I'm with you I can't stop smiling and when I go to bed I can't stop thinking of you. And when I wake up I want to be with you. And when I kiss you I don't want to stop kissing you," Jason declared to Becca last week after his hometown date in what was basically a monologue straight out of the final scene of a romantic comedy. Swoon.
But things took an unfortunate pivot during Jason and Becca's Fantasy Suite date on Monday's dramatic episode. Um, spoiler: They didn't make it to the actual suite.
Becca clearly had feelings for Jason. "There's just this crazy chemistry with him," she has said.
The pair kicked things off in Chiang Mai, Thailand by exploring the city's Sunday market. There was cricket eating, temple viewing... and second guessing. Suddenly Becca felt "weird" after making a passing remark about a future with Jason. As it turns out, she might not see one after all.
Dinner rolled around and Becca anxiously paced prior to Jason's arrival, knowing that she "owed" it to him to see if they could get back "on track." Unfortunately, she just couldn't get there.
After discussing their relationship, hometown success, and how they got to the point they are, Becca knew that she had to be honest. It's pretty much been her motto all along.
"Something felt a little off and I don't know what it was," she admitted to Jason, recalling her earlier uneasiness before excusing herself.
"I'm just questioning what the hell is wrong with me, when I have a great guy in front of me who's everything I would want, who's telling me everything that I would want to here," Becca then confessed to the camera through tears. Uh, oh. Time to rip the proverbial band-aid off.
And thus Becca told him she wasn't "100 percent there" and eliminated Jason before their overnight date.
So, what's next for the Seattle-based banker? He's a clear frontrunner for Season 23's Bachelor position alongside sensitve football pro Colton, who was eliminated last week after the whole Tia debacle complicated things. Wills is also a fan-fave who might just land the job. Both cast-offs are headed to Paradise, but their romantic fate is unknown by us mere viewers at this point. Once Becca makes her final pick audiences will gain more concrete insight on who else might be headed to the mansion to hand out roses. But right now, it looks like they're ready for Jason: The Bachelor.
Becca and Jason appeared to have a real connection throughout filming and Jason shared behind-the-snaps from their time together.
"Any journey to happiness & love isn't supposed to be easy, but is supposed to be worth it," the 29-year-old captioned one photo of them from Richmond, Virginia. "Always fight for what you believe in, but always with class and character.
Hmm, journey? He's already got the Bachelor lingo down. Maybe he's ready to take the challenge on.