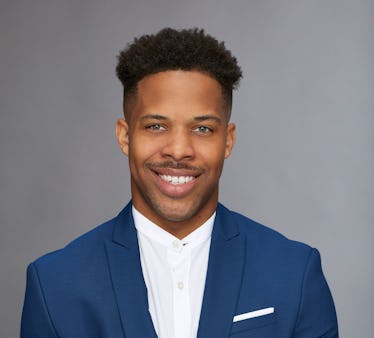 Wills Is Officially Headed To 'Paradise' & Bachelor Nation Is Thrilled
ABC
After Wills Reid confessed his growing love for Becca Kufrin on this week's episode of The Bachelorette, fans definitely didn't expect that Becca's own feelings just weren't on the same level as his. The last few moments of the group date dinner with the two of them and Jason totally leaned toward Wills snagging the coveted rose, but because Becca wanted someone whose progression in a relationship matched her own, Jason received the rose and Wills was eliminated. Bachelor Nation is still heartbroken over Wills's emotional exit, but that wasn't the last we'll see of him this summer. Wills is joining Bachelor in Paradise, and we have more of his awesome Hawaiian shirts to look forward to in Paradise.
As we saw on Episode 7 of The Bachelorette, Wills fully embraced his vulnerable side in conversations with Becca, saying that she made him believe in love again and that he couldn't wait to bring her home to meet his family. After all, his parents essentially have the love story of everyone's dreams, celebrating their 50th anniversary next year. All of this gushing made Wills's exit even more heartbreaking. He could barely say goodbye to Becca! He stopped the limo to cry on the side of the road! All while wearing a vibrant Hawaiian shirt!
I was rooting for Wills to earn the Bachelor gig, but ABC confirmed that Wills will stop by the Mexican beach for Season 5 of Bachelor in Paradise this summer. OK, so we may not see our first black Bachelor next year, but this means that by the end of the summer, we'll have plenty of new Wills reaction GIFS at the ready.
While many members of Bachelor Nation are disappointed that Wills is heading to Mexico and taking one big step away from the possibility of being the Bachelor, other fans are still pumped about the addition of Wills to the Paradise cast.
While some Wills is better than no Wills, plenty of viewers are understandably upset about his Paradise announcement. At first glance, being cast on Paradise usually means that someone won't be a lead, but after two-time contestant Nick Viall had his own redemption tour on Season 3 of Paradise, he became the Season 21 Bachelor. So let's not rule out Wills from the Bachelor running yet, OK?
Wills definitely has Nick's blessing to take over the Bachelor reins, as Wills has made a few appearances in Nick's comical Bachelorette highlights videos with franchise alum Jared Haibon. In this week's video, Nick and Jared essentially announced their support for Wills as Bachelor. Come on, ABC, if there's anyone you should listen to, I think it's the guy who ran back to you several times for help in finding love.
Wills joins several of Becca's men in this Paradise cast, including Night One castoff Joe Amabile, Venmo app creator John Graham, and Chris Randone, who famously clashed with Wills on a group date in Vegas. The men will explore the chance of love with women like Bachelor Season 21's Tia Booth, Kendall Long, and Krystal Nielson.
Bachelor Winter Games favorite Yuki Kimura will also join Bachelor Nation staple Wells Adams at the Paradise bar, undoubtedly providing the comic relief of this season. Of course, we also have the engagement of Ashley Iaconetti and Jared to look forward to, and there's always the possibility of a new couple falling so deeply in love that they end the season with their own marriage proposal. And a surprise announcement of Wills as Bachelor, right? Right?
The Bachelorette returns on Monday, July 16, at 8 p.m. ET on ABC. Season 5 of Bachelor in Paradise premieres on Tuesday, Aug. 7, at 8 p.m. ET.