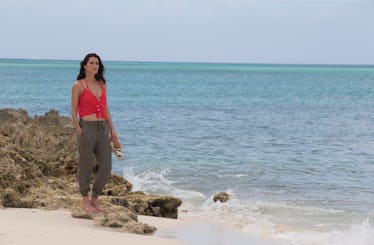 Becca Sent Home This 'Bachelorette' Fan Favorite Before Hometowns & I'm Crushed
ABC
When a season of The Bachelorette or Bachelor reaches the point of only having a handful of contestants yet, the result is inevitably awkward combinations like Season 14's three-person group date in Episode 7. If those guys think that being on a group date at any other stage of the game is bad, ending up on this special arrangement of a date looks even worse. After initially sending Leo home earlier on the date, Becca Kufrin chose to eliminate Wills, crushing the hearts of so many viewers. I've stopped trying to understand Becca's reasoning, but why did Becca send Wills home?
With Blake, Colton, and Garrett snagging individual dates and inevitably the label of being Becca's favorites this time around, Wills, Leo, and Jason were left to join her on the beach in the Bahamas for a quick match of volleyball. Two of them would be sent home at the end of the date. If you recall Arie's season, its equivalent of this date ended with Tia and Bekah M. disagreeing about the latter being ready for marriage and Bekah sobbing to Arie right before he sent her home. Seeing as Wills, Leo, and Jason are not quite known for their loud dramatics, predicting the dynamic of this date was a little more difficult.
Going into the day, Becca expressed concerns about making a decision at the end of the date because of how great each of the three men were. Leo's surprisingly vulnerable side had her captivated, while Jason's positivity also stood out. Wills's quiet confidence in himself and the nerdiness that Becca never fails to mention about him were also strong qualities that she enjoyed. TBH, I'm pretty sure most of Bachelor Nation adores his nerdiness too.
Of course, given Blake's sweet blandness and the controversies that have followed Colton and Garrett both onscreen and off, Bachelor Nation was also concerned about how this date would turn out. Why did Becca have to get rid of any of the men on the group date?
In Becca's private conversation with Wills, he confessed that the week in the Bahamas was his toughest yet. He told Becca he was falling in love with her during a past week, and not receiving a one-on-one in the Bahamas was understandably difficult. Becca sympathized, but she quickly turned the conversation around to a lighter subject — Wills's family!
ICYMI, Wills's parents have been married for almost 50 years, and I'd want to see his parents meet Becca regardless of whether Wills was on a hometown date. We need more genuine love stories in Bachelor Nation, don't we? Wills and Becca bonded over their parents having long-lasting relationships, and Wills left feeling positive about coming away with a rose.
After Becca cut Leo after the volleyball match, only Jason and Wills were left for the night portion of the date. After Becca told Jason that he was handling his feelings more slowly than other men, things turned emotional with Wills following a hot and heavy makeout. Wills confessed that she made him believe in love and being a good man again.
Forget Ryan Gosling in The Notebook. Wills's declaration of love is what I want quoted to me verbatim.
Becca was torn between giving a rose to Wills, who was essentially "all in," or Jason, who was still more hesitant about going forward in their relationship. She wanted to be on the same level as whoever she moved forward with...hence why she picked Jason.
In their tearful goodbye, Becca confessed that eliminating Wills was the hardest decision for her, but in the end, she couldn't go through with meeting his family when she wasn't on the same page as Wills. Heartbreaking, right?
Wills was blindsided about the elimination, even requesting his limo driver to stop in the middle of the road so he could cry outside. Um, ABC, if this isn't a Bachelor application package, what is? i'm certainly not the only one who thinks so.
At this point, I have my fingers crossed for Wills to get his own glowing hot seat interview at "Men Tell All" and for Chris Harrison to subsequently announce his surprise Bachelor gig. Anyone else down?
The Bachelorette returns on Monday, July 16, at 8 p.m. ET on ABC.