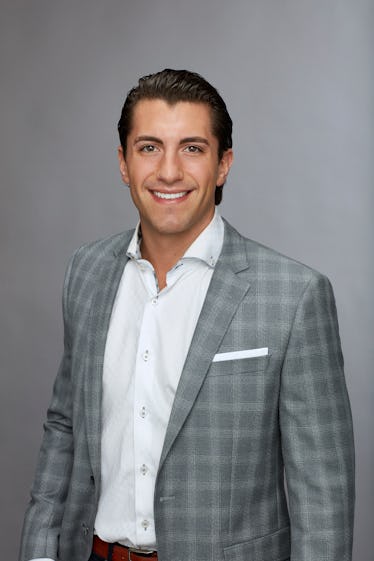 Jason Revealed Whether Or Not He's Going To 'Paradise' & Fans Will Want To Read This
ABC/Craig Sjodin
Say it ain't so, ABC. Bachelor Nation has gotten accustomed to not saying goodbye to certain Bachelorette cast-offs, especially finalists, for very long after their eliminations, but they can't always get what they want. Colton, Wills, Leo and a handful of other Becca's Season 14 suitors are all signed up for Bachelor in Paradise. But will Jason be on Bachelor in Paradise? Unfortunately, the recently-rejected Season 14 fan fave will reportedly not be taking headed to Mexico for more reality television dating adventures. Don't expect to see the Buffalo native frolicking in the sand or sipping margaritas with fellow franchise alums on a small screen near you any time soon.
"I wasn't in the head space for that," Jason Tartick revealed to ET at Friday's "Men Tell All" taping about his BIP future.
The explanation makes a lot of sense. Jason's Bachelorette end was a heartbreaking one. His exit was not without tears and turmoil on July 23's Fantasy Suite-centric episode. Jason never made it to an overnight with Becca — she let him down before they got to that point, knowing she didn't feel their connection as strongly as she did with Garrett and Blake. Becca told him:
You asked me how has this been for me. It has been very hard. It's been the most difficult thing I've ever done, honestly. For the longest time I could see everything with you and I don't know what my problem is because you have been the most amazing, open person. You said you had your walls up but I never once saw that at all. But I can't put you through an overnight if it's not 100 percent there.
"[In] that moment, I'm in Thailand and I have everything someone could ask for. I have a suite full of all the food and drink I want… and it was one of the most empty moments in my life, because I didn't have my friends, I didn't have my family, and I just lost her," Jason elaborated on the breakup experience to ET.
"I feel terrible for hurting him I think we both went into yesterday expecting something so different," Becca said about the hard-to-make choice, after breaking down and questioning "what the hell" was wrong with her for feeling so conflicted about moving forward with the Seattle-based banker.
Jason's journey wasn't quite over after Becca walked him to the limo. He returned later in the episode to get closure and to present her with a scrapbook of their time together.
"I love her and I'm not ready to let her go. It's been a long time since I've felt this way and it's tough to have it taken away," he explained as he approached her Chiang Mai hotel room.
Becca did not budge in her decision to let him go, although she was visibly moved by his words/parting gift. I personally thought viewers would get the announcement that Jason would be arriving in BIP come August this morning, but alas, it's just not in the cards...
"I would be willing to do it," Jason did remark, regarding being The Bachelor. "This experience has exceeded my expectations in every single way."
Hmm. There's hope for Jason fans after all.