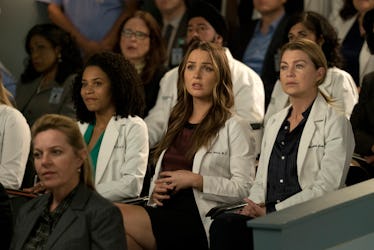 This 'Grey's Anatomy' Season 15 Theory Hints At A Time Jump & I'm Not Mad About It
ABC
We're heading into Season 15 of Grey's Anatomy with an uncommonly happy view of its world. Jo and Alex were married in the Season 14 finale, while Teddy revealed she was pregnant. If April's accident and miraculous recovery prior to the finale ended any differently, the episode would have captured a bittersweet circle of life, but that thankfully wasn't the case. Jo also received an exciting job offer requiring her to move to Boston, complicating the way the show would handle her and Alex's newlywed days. Fans have a time-traveling theory about how Jo could chase her dream and still be in Seattle, so will Grey's Anatomy Season 15 have a time jump?
As is the frequent case with Grey's Anatomy, characters leaving Seattle are either officially exiting the series or experimenting with different options before returning to Grey Sloan Memorial soon after. Cristina set off to a job in Minnesota after becoming traumatized by the gang's plane crash, but that didn't last long. Apart from perhaps Ben Warren and Addison Montgomery, who left Seattle for new jobs (and their own spinoff shows), people who leave usually don't come back. So when Jo and Alex made it clear that they were going to go to Boston for Jo's medical program, fans began to worry that actors Camilla Luddington and Justin Chambers were leaving Grey's Anatomy.
After saying goodbye to longtime cast members Sarah Drew and April Kepner at the end of Season 14, Grey's Anatomy hasn't announced the departures of any other actors, and Luddington and Chambers' names are included in a press release announcing the Season 15 cast. These hints point toward the show attempting to write about Jo and Alex's time in Boston, but a theory crafted by POPSUGAR back in May is a pretty solid idea of how their Boston adventures could be handled efficiently.
Grey's Anatomy has embraced brief time jumps in between seasons before, and the POPSUGAR theory suggests that the writers use the power of time to zoom through a potential Boston storyline quickly. The show could always jump forward a few months to the point of Jo's realization that Boston isn't for her. It could even pick up so far in advance that Jo completed the program and she and Alex have already moved back to Seattle. For the sake of continuity, I really don't mind this idea. Wouldn't we rather see the newlyweds surrounded by their friends than entirely on their own across the country?
While this jump works best for writers who benefit from their entire group of characters being in the same place, time jumps could be a little tricky what with Teddy's pregnancy this season. We only just learned about her upcoming bundle of joy at the end of Season 14, so wouldn't the show want to bring us as much of the buildup to the baby's arrival as possible?
Using the sneaky magic of TV to avoid Jo and Alex's new chapter is definitely a possibility, but while speaking at Comic-Con recently, Camilla Luddington seemed to crush any hopes of this theory coming to life. She told TVLine about Season 15:
We pick up right where we left off. There's not like a massive time jump.
Hmm, so maybe we'll see the Wilsons hit up Boston after all. Luddington also revealed that Jo is due to find her specialty this season, and perhaps fans need to see her in Boston to understand the full effect of her discovery about her career. We'll have to wait and see how seriously we should take Luddington's claim of no noticeable time jumps.
Season 15 of Grey's Anatomy premieres on Thursday, Sept. 27, at 8 p.m. ET on ABC.