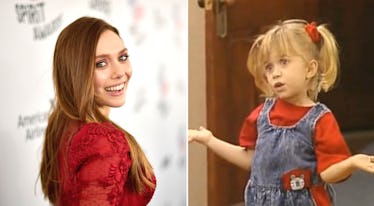 Elizabeth Olsen Addressed That Rumor That She Will Play Michelle Tanner On 'Fuller House'
Matt Winkelmeyer/Getty Images, ABC
It is no secret that Fuller House isn't exactly as full as the cast and creative team want it to be. Netflix's sequel series to the '90s ABC sitcom Full House managed to reunite almost every actor from its original cast, with the one notable exception being Mary-Kate and Ashley Olsen. The twins, who played youngest daughter Michelle Tanner, have moved on from acting, for all intents and purposes, and opted out of reprising their most famous role. But their sister Elizabeth happens to be one of the buzziest actors working right now, which may have spurred the rumor that Elizabeth Olsen would play Michelle Tanner in Fuller House. Now, the actress is addressing that rumor.
Elizabeth Olsen appeared on the podcast Everything Iconic with Danny Pellegrino recently, and spoke about reports that she might join Fuller House as Michelle Tanner. According to Olsen, those rumors are just that: rumors, and she (understandably) does not feel comfortable playing the role that her sisters made famous:
That was weird, because it was also like, 'Leave me out of this. This has nothing to do with me' … and then I had to answer questions about it immediately after. I was doing press, and I was like, 'I don't know what anyone's talking about. Stop talking to me about this.'
So, in short: No, don't expect Elizabeth Olsen to walk into the Tanner house as Michelle in future episodes of Fuller House.
The Elizabeth Olsen rumor started back in 2016, shortly before the first season of Fuller House debuted on Netflix. While promoting the new series, star and producer John Stamos said that after the Olsen twins declined to reprise the role of Michelle, showrunner Jeff Franklin called Elizabeth's agent to see if she would take the part. After the show premiered, Elizabeth said that she had never heard any offers from the Fuller House team to play Michelle.
Although Mary-Kate and Ashley Olsen reportedly do not consider themselves actors anymore and neither has appeared in a film or TV show since 2011, Elizabeth Olsen has risen to become one of the most in-demand actresses in Hollywood right now. She made a name for herself as an indie darling in the early 2010s with roles in collegiate dramas Liberal Arts and Kill Your Darlings, and then made the leap to blockbuster franchises by taking the part of Scarlet Witch in Avengers: Age of Ultron. Recently, she co-starred with Aubrey Plaza in the Instagram-happy black comedy Ingrid Goes West and continues to reprise her role as Scarlet Witch in numerous Marvel movies, including the upcoming Avengers: Infinity War.
The Fuller House team has been pretty clear about their desire to get the Oslen twins to return to the series as Michelle Tanner. Ahead of their third season last fall, showrunner Jeff Franklin admitted that he finally stopped asking the twins to make an appearance on the show, but still assured them that the door is always open.
While Michelle Tanner has yet to appear on Fuller House, the character has been mentioned a couple of times. In the first season, father Danny Tanner mentions that Michelle is busy running a fashion empire in New York, leading the entire main cast to pan to the camera.
Now that Fuller House is heading into its fourth season with no signs of relenting from anyone in the Olsen family, it seems like it's time for everyone to deal with the probability that Michelle Tanner is gone for good.