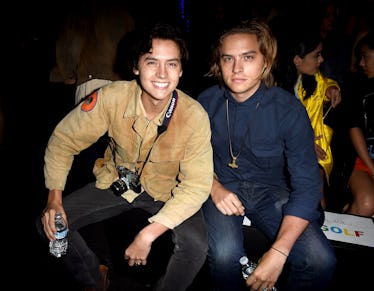 Cole Sprouse Revealed Whether His Brother Dylan Would Ever Guest Star On 'Riverdale'
Kevin Winter/Getty Images Entertainment/Getty Images
The Suite Life of Zack & Cody was on Disney Channel for three years and fans have apparently never recovered. People really, really want to see Dylan and Cole Sprouse on TV together again. So much so that fans have been begging for Dylan to make a guest appearance on Riverdale — the hit sexy-murder-plot twist-mystery-thriller show that Cole stars in as Jughead Jones. So, will your prayers be answered? Will Dylan Sprouse be on Riverdale? Sadly, no. Like, a definite no — according to Cole.
Fans first started obsessing with the idea of Dylan making a guest appearance on Riverdale after he posted a picture of himself with KJ Apa (aka Archie Andrews) on his Instagram story. The question has since popped up among fans and even Cole is being asked about the probability. During a recent interview with Glamour, Cole gave a solid response to the floating question. He said,
I wouldn't want it, Dylan would never do it, and I think it would break fourth wall too much. A lot of my fans from the Suite Life still come up and say, 'This would be fun!' I think it would just be silly. It would be super, super weird and totally not appropriate.
Honestly, I love a Sprouse twin sandwich as much as the next person, but I have to agree with Cole in this case. Fans are already expecting to meet Betty Cooper's long lost brother during Season 2 of Riverdale, I think another rogue family member might be a little too much.
Cole continued by saying,
People want to see us on-screen together again, and that's fine. That's flattering, I guess. But if it's going to destroy the kind of world that we've built [on Riverdale], it's wildly inappropriate.
Cole even mentioned the fact that Jughead's mother and sister haven't been seen yet, "I already got enough family to deal with here!" Alright, alright — fair point. I guess if it's wrong to want Dylan to appear on Riverdale, some fans don't want to be right.
Alternate universe twinning aside, Season 2 of Riverdale looks like it's going to be good. Like cry because you have to wait a whole week between episodes good.
It's been released that there will be another murder mystery this season and that several characters will take on much more devious personas. Cole teased that Season 2 will lean more towards "horror" in genre, but he wouldn't describe it as "dark." In fact, let's all just stop using that word to describe television and only use it to describe chocolate. He said,
That word has been so buzzed around by now it's making me sick. I hate that word. I don't know when it was used, but it's so vague. I really don't think it does a service to Season 2 at all. Yeah, genre-wise we end up moving towards horror, but I don't know when the word 'darker' was first pitched in.
Good to know if I ever randomly meet Cole. Our interaction would be something like —
Me: Hi, Cole! Season 2 of Riverdale is sure darker than last season, huh?
Cole: Please leave.
The actor did say that basically no one is safe and fans shouldn't feel secure with any plot line.
It's pretty inappropriate of fans to think they can expect any kind of narrative from show runners or writers or actors. I just don't think that's the way you should engage with material that you're watching as a passive audience member ... Our writers are not writing as a fan service. We're writing a show that is from the writer's creative perspective. If we were writing what the fans wanted to see, Betty and Jughead would be the most linear, monotonous narrative of all time.
When it comes to Betty and Jughead, PLEASE BE LINEAR AND MONOTONOUS. Obviously, Season 2 is going to take us on a wild ride so we better strap in tight.
While it seems that there will definitely not be a Suite Life reunion happening on Riverdale ever, let's just enjoy it for what it is — an amazing show. Season 2, leggo.
Check out the entire Gen Why series and other videos on Facebook and the Bustle app across Apple TV, Roku, and Amazon Fire TV.